Paccheri with prawns, lemon zest and chilli
"Good pasta is one that doesn't cause the water it's boiled to turn cloudy. Murkiness is an indication of excess starch and insufficient protein." — chef Michele Pavanello, Otto Ristorante
"Good pasta is one that doesn't cause the water it's boiled to turn cloudy. Murkiness
is an indication of excess starch and insufficient protein." — chef Michele Pavanello, Otto Ristorante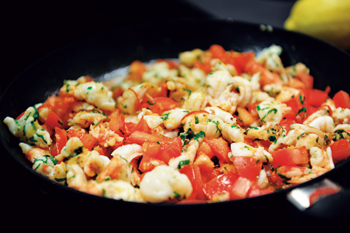 Serves 4 Prep time 25 minutes
Cook time 20 minutes
300g tiger prawns, shelled with tails removed
1 red chilli, deseeded and chopped finely
1 clove garlic, chopped
20g Italian parsley, chopped
zest of 1 lemon
20ml extra virgin olive oil
360g dried paccheri (available at Meidi-Ya supermarket)
2 tomatoes on vine, cubed
salt and pepper to taste
• Slice the prawns in half lengthwise, then cut across to get four pieces from each prawn. Combine the chopped chilli, garlic, parsley, lemon zest and olive oil and mix well. Add prawns and let marinate for 15 minutes. In the meantime, cook the pasta according to package instructions.
• Sauté the prawns in a large pan on high heat until they turn an even pink. Add tomatoes and simmer on low heat for 5 minutes. Add cooked pasta and toss evenly.
• Season to taste and serve.