Oven-baked russet potatoes with gruyere cheese
OVEN-BAKED RUSSET POTATOES WITH GRUYERE CHEESE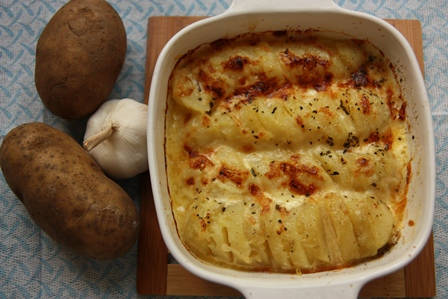 Serves 2
Prep time 20 minutes
Cook time 15 minutes
2 Russet potatoes (250g each)
1.5 litres salted water
2 garlic cloves, thinly sliced
2 tbsp butter
150ml thickened cream (Bulla)
130g Swiss Gruyere cheese
1 tsp basil leaves
salt and pepper to taste
Wash potatoes lightly under water and boil them in salted water for 15 minutes. If you insert a knife into the potato and the flesh doesn't stick to the blade, the tuber can be removed.
Dry potatoes, remove their skin, and slice them lengthwise into half. Then cut about 1.5cm-thick slices along the width of each potato.
Rub the bottom of an oven-proof dish with sliced garlic and butter. Arrange sliced potatoes into four rows.
Pour thickened cream over the potatoes and spread it evenly, ensuring that some of it gets in between the slices. Grate Gruyere cheese over the potatoes.
Bake in oven on 220°C for 15 minutes, or until the cheese and cream crust has browned slightly.
Sprinkle basil leaves on top, add salt and pepper, and serve.