Osmanthus scented bone-in ham
Osmanthus infuses this traditional Christmas staple with a delicate, fruity fragrance. Add a dash of colour by decorating the garnishes around the rim of a silver platter.
Serves 6-8 Prep time 10 minutes + 8 hours marinating time
Cook time 90 minutes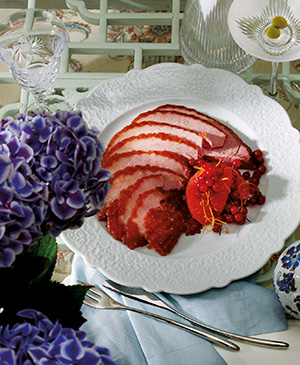 marinade
1 litre grapefruit juice
400ml green apple juice
1 cup Wu-Hsing osmanthus sauce, available at Cold Storage
5 tbsp salt
3 tbsp sumac
100g coriander roots
1 ham, cooked with bone (6.2-6.5kg)
250g unsalted butter
garnish
5 grapefruits, sliced into wedges
300g redcurrants
80g grapefruit peel
2 green apples, sliced and core removed
1 cup maple syrup
1 cup hot melted butter (unsalted)
pinch salt and pepper
Combine ingredients for marinade in a bucket and mix well.
Add ham into the bucket and place in a fridge to marinate for at least 8 hours overnight.
Preheat the oven to 155˚C and roast ham for 75 minutes.
Pour the rest of the marinade into a pot and add butter. When it thickens to a syrup, brush generously over the ham every 10 minutes.
Combine all garnishes in a whisking bowl and serve with ham.