Mussel and saffron risotto
Try a spin on the traditional risotto Milanese with mussels instead of bone marrow.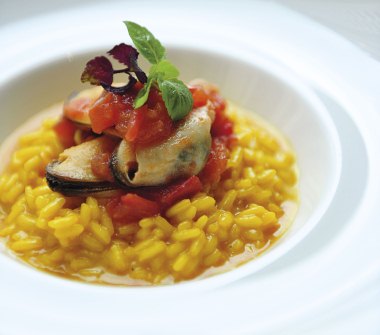 Serves 4 Prep time 20 minutes
Cook time 35 minutes
6 tbsp extra virgin olive oil
32 mussels, cleaned and debearded
50g onions, chopped
320g carnaroli rice
2 pinches saffron
½ glass white wine
1 litre filtered chicken stock
60g unsalted butter
80g Parmesan cheese
2 cloves garlic, crushed
200g tomatoes, skin and seeds removed
fresh chilli (optional)
In a large pot, heat 2 tbsp extra virgin olive oil. Add the mussels, steaming gently till their shells have opened. Drain stock and reserve. Remove the mussels from their shells and set aside.
In a deep saucepan, sweat onions in another 2 tbsp of extra virgin olive oil. Add the carnaroli rice, saffron and stir well.
Add the white wine and reduce for 5-10 minutes. Heat up the chicken stock till boiling and combine with the reserved mussel stock.
Ladle by ladle, slowly add enough stock to cover the rice and stir till liquid is absorbed before adding more.
The rice should be cooked al dente at 18 minutes. Remove from heat and stir in butter and Parmesan cheese. Dish onto serving plates.
Reheat reserved mussels in a pot with 2 tbsp extra virgin olive oil, garlic and tomatoes, adding a splash of mussel stock if available.
Bring to a boil before removing from heat. Top saffron risotto with mussel sauce and serve.