Mum's bbq chicken in steamed bun
Mum's Bbq Chicken in Steamed Bun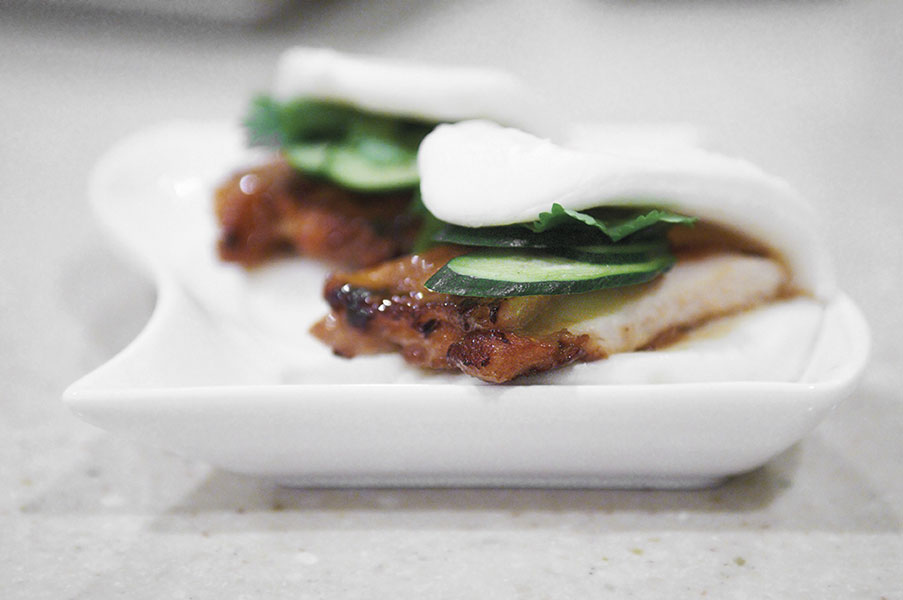 Extracted from Chef Eric's Cookbook
Advertisement
Serves 4
Prep time 15 minutes + 1 day marination
Cook time 15 minutes
marinade
2 tbsp ginger juice
2 tbsp light soya sauce
1 tbsp dark soya sauce
1 tbsp sugar
½ tsp salt
½ tsp ground black pepper
½ tbsp sesame oil
2 stalks spring onions, bruised and cut into 4-cm lengths
4 whole boneless chicken leg, cut into half.
8 Chinese buns, steamed
1 small cucumber, peeled, cored and sliced
4 pcs fresh lettuce leaf
4 sprigs fresh coriander
Combine all ingredients for the marinade.
On the thicker sides of the chicken leg, make a few half slits to level the meat to the same thickness. Marinate the chicken for a day
Heat some oil in a non stick pan and lightly pan fry the chicken pieces till just cooked, about 2-3 minutes on each side.
Steam buns till hot and sandwich into each bun a piece of chicken, some cucumber slices, lettuce and spring onions.