Moussaka
Moussaka is the ultimate Greek comfort food: an intricately layered casserole of eggplants, potatoes and minced meat.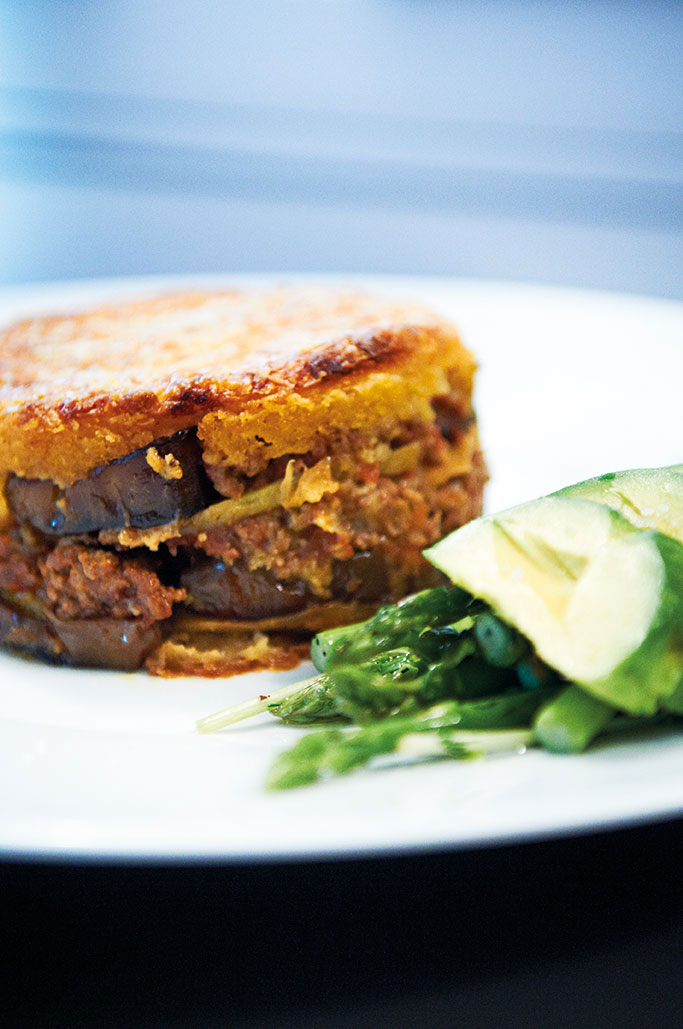 Serves 4-6 Prep time 15 minutes
Cook time 45 minutes
3 large eggplants
½ cup extra virgin olive oil
3 potatoes, sliced
2 onions, chopped
2 sprigs fresh rosemary
500g minced beef
1 tin crushed tomatoes
200g Parmesan cheese, grated
béchamel
3 tbsp unsalted butter
2½ tbsp plain flour
500ml whole milk
salt and white pepper, to taste
dash grated nutmeg
• Preheat oven to 180°C. Slice eggplants into ½-inch thick discs, and drizzle with a little olive oil. Season and bake in the oven till golden brown.
• In a pan, fry the sliced potatoes in remaining olive oil over medium-high heat. When soft and golden brown, drain and reserve.
• Sauté onions, rosemary and minced beef in reserved extra virgin olive oil. Blend tomatoes till smooth and add to minced meat. Season to taste. Allow the mixture to simmer uncovered for approximately 20 minutes so that excess liquid can evaporate for a thicker sauce.
• To make béchamel, melt butter over low heat in a separate pan. Add flour and milk, whisking to create a smooth mixture. Season with salt, white pepper and nutmeg to taste.
• In a deep dish, layer the potatoes, eggplant and minced meat mixture, leaving a space of 5cm at the top. Pour over béchamel.
• Sprinkle with cheese and bake till golden brown, about 20 minutes.