Moqueca (brazilian fish stew)
Every country blessed with a rich coastline has its version of a seafood stew. In Brazil, it's moqueca, made with firm white fish swimming in a piquant gravy of tomatoes, coriander and peppers.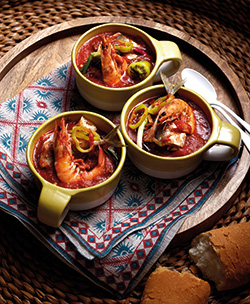 Serves 4 to 6 Prep time 35 minutes + overnight marinating time
Cook time 30 minutes
1.2kg white fish such as halibut or cod, cut into large chunks
2 tbsp garlic, minced
5 tbsp green lime juice
sea salt and freshly ground black pepper, to taste
2 tbsp olive oil
1 cup white onions, chopped
1 yellow pepper, seeded and cubed
1 red pepper, seeded and cubed
1 tbsp sweet paprika
pinch red pepper flakes
2 cups canned tomatoes, chopped
¼ cup spring onions, green portion only, chopped
50g cilantro, chopped, with some set aside for garnish
1 cup coconut milk
Marinate fish chunks in a deep bowl with minced garlic, lime juice, sea salt and pepper overnight.
In a large cast iron pot, heat olive oil over medium heat. Add the chopped onions, bell peppers, paprika and red pepper flakes. Cook for 3 minutes until the peppers have softened, then season to taste with sea salt and pepper.
Stir in the chopped tomatoes and spring onions. Bring to a simmer and cook for 10 minutes, uncovered. Mix in the chopped cilantro.
Add the fish and pour coconut milk over the marinated chunks. Bring the stew to a final boil, reduce the heat, cover and simmer for 15 minutes. Taste and adjust seasonings with additional salt, lime juice, paprika or red pepper flakes.
Garnish with remaining cilantro and serve with rice or crusty bread.
Excerpt from the May 2014 issue of epicure.