Minced chicken parcels
Minced Chicken Parcels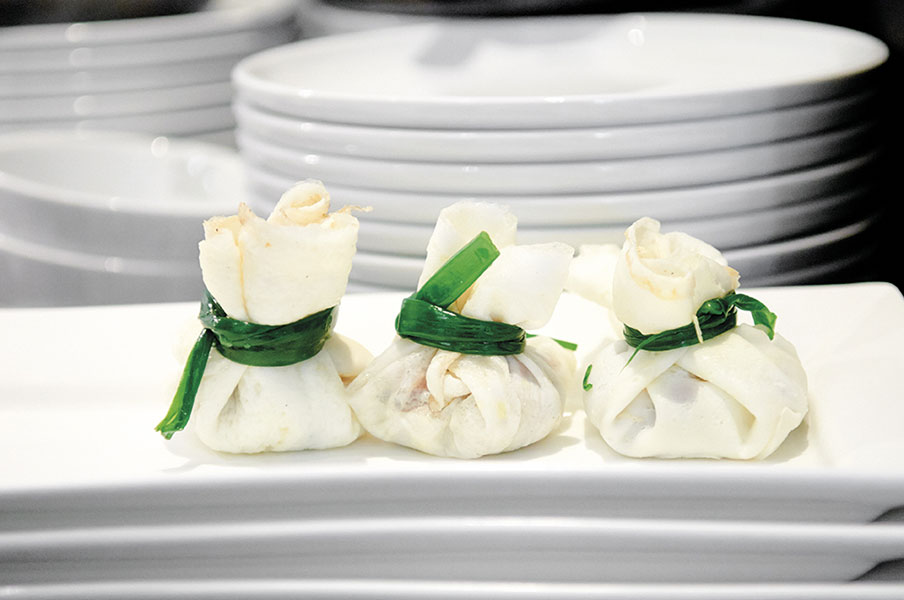 Makes 10
Prep time 1 hour
Cook time 25 minutes
100g water chestnuts, minced
100g shiitake mushrooms, minced
100g carrots, minced
100g bamboo shoot, minced
200g minced chicken
1-2 tbsp vegetable oil
½ tsp salt
1 tsp light soy sauce
50ml chicken stock
1 tsp corn flour mixed with a splash of water
10 egg whites
5 stalks spring onion, split and blanched briefly in hot water till slightly wilted.
In a pan over low heat, stir-fry water chestnuts, shiitake mushrooms, carrots, bamboo shoot and minced chicken with vegetable oil. Season to taste with salt and light soy sauce. Add in the chicken stock and diluted corn starch and stir till the mixture is thickened and slightly sticky. Set aside.
In a non-stick pan with a 15-20cm diameter or smaller, add a drop of vegetable oil. When hot, crack in the white of 1 egg. Spread the mixture to as even a layer as possible. When cooked, flip the white over, taking care to not split its shape. Let cool and repeat to make 9 more egg white rounds. (You may want to have more egg whites on hand for this.)
On each egg white round, put 2 tbsp of the minced chicken mixture into the middle. Fold up the sides and gather the edges to form a sealed pouch. Tie each parcel with a split stalk of blanched spring onion.
Steam for 15 minutes and serve warm.