Miang kam (thai leaf-wrapped snacks)
Miang Kan (Thai Leaf-Wrapped Snacks)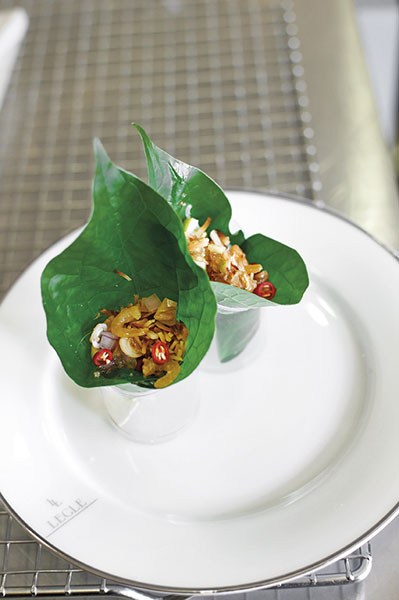 Serves: 6-8
Prep time: 15 minutes
Cook time: 55 minutes
½ cup grated coconut
¼ cup dried shrimp, unwashed
1 tbsp vegetable oil
2 green limes, unpeeled and finely chopped
2 tbsp bird's eye chilli, finely chopped
2 tbsp shallots, peeled and finely chopped
¼ cup peanuts, roasted
2 tbsp galangal, peeled and finely chopped
2 stalks lemongrass, bruised and finely chopped (mid-portion only)
300g palm sugar
fish sauce or salt to taste
20 wild pepper leaves (daun kaduk), available at wet markets.
Toast grated coconut in a dry pan (without oil) until golden brown, stirring occasionally. This should take about 30-45 minutes. Alternatively, place in a microwave on high in three to four blasts of 2 minutes each. Mix well after each blast.
Toast dried shrimp in a pan with oil over high heat until crisp and golden brown. Set aside.
Mix toasted coconut and dried shrimp with all the remaining ingredients except palm sugar, fish sauce and wild pepper leaves.
Combine palm sugar and ¼ cup water in a saucepot over low heat until sugar melts and sauce thickens to a honey-like consistency. Add fish sauce to taste and let cool.
Add 4 to 5 tbsp of sauce to the shrimp-coconut mixture and mix well. Reserve any remaining sauce in a separate bowl.
Arrange wild pepper leaves in a serving platter with the shrimp-coconut mixture and remaining sauce in the middle.
Fold the bottom of each leaf to form a hollow cone and spoon 1 tbsp of filling inside. Drizzle with more sauce if desired. Roll up to seal or let guests help themselves by wrapping their own snacks.