Mee rebus with begedils
This recipe does away with tapioca or potato flour and relies on the sweetness and starch of sweet potatoes for a viscous gravy. Use yellow or orange potatoes for a sauce with a natural golden hue.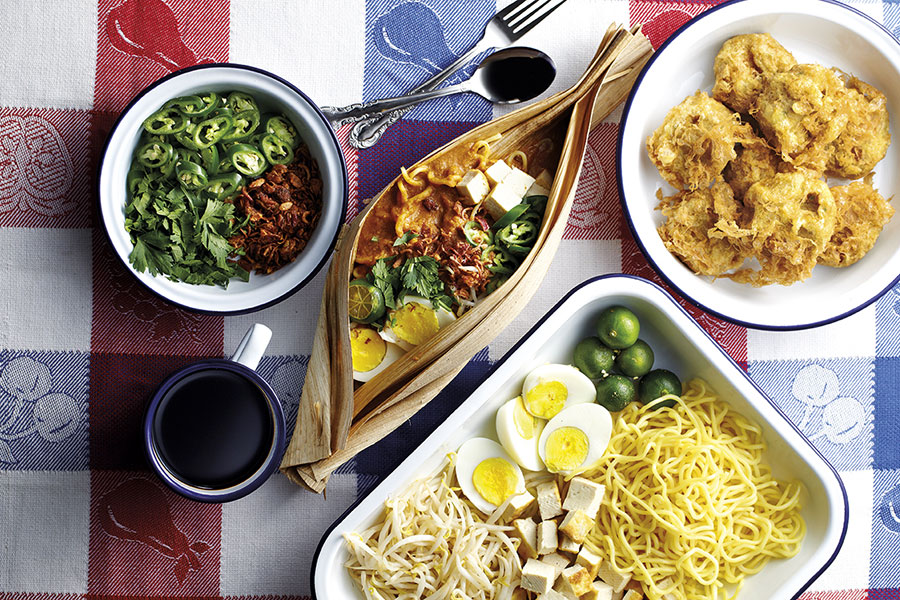 Serves 4
Prep time 40 minutes
Cook time 55 minutes
200ml cooking oil
100g rempah or spice paste (see chicken curry recipe)
100g chilli paste
80g dried shrimp, rinsed
100g roasted peanuts, coarsely ground
85g tau cheo or fermented soy beans
20g curry powder
350g white, yellow or orange sweet potatoes, peeled and cubed
2 litres water
150ml coconut milk
100g gula melaka or palm sugar
2 tbsp kecap manis or sweet soy sauce
1 tsp salt, to taste
700g yellow noodles
garnish
200g bean sprouts
160g bean curd, fried and cut into cubes
12 prawns, cleaned and shelled, blanched
40g fried shallots
20g Chinese celery, chopped
4 hard boiled eggs, halved
4 calamansi limes, halved
4 fresh green chillies, sliced
Heat cooking oil in a wok or large pan and fry the spice paste and chilli paste till fragrant. Add dried shrimp and coarsely ground peanuts and fry for another 3 minutes.
Mix in the tau cheo, curry powder and cubed sweet potatoes, then pour in water and coconut milk. Bring to a boil. Add gula melaka and kecap manis and simmer till sweet potatoes are tender. They should be soft enough to pierce through with a fork.
Transfer the ingredients to a blender and blend into a thick gravy. Season to taste with salt. Blanch noodles and divide into 4 portions.
To serve, blanch bean sprouts for 1 minute. Spoon about 150ml of sauce over each portion of noodles and garnish with bean sprouts, fried bean curd cubes, blanched prawns, fried shallots, Chinese celery, boiled egg halves, calamansi lime and sliced green chilli.
begedils
500g Dutch potatoes or other semi waxy potatoes, cut into 2cm cubes
3 tbsp cooking oil + more for deep frying
1 tbsp rempah or spice paste (see chicken curry recipe)
200g minced lamb, beef or pork
½ tbsp curry powder
1 tsp salt
1 tsp coarse ground black pepper
2 stalks spring onions, diced
2 sprigs Chinese celery, diced
3-4 eggs, lightly beaten
Steam potatoes for 20 to 30 minutes till soft. Allow to cool, then in a large mixing bowl, mash the potatoes with a fork or masher. Set aside.
In a pan over medium heat, heat 3 tbsp cooking oil and sauté the rempah till fragrant. Add the minced meat and cook briefly.
Sprinkle in curry powder and cook until meat juices are clear and almost dry.
Transfer the minced meat to the mashed potatoes. Season with salt, pepper, spring onions and Chinese celery. Mix thoroughly. Spoon approximately 2 tbsp of potato mixture and shape into a round patty. Depending on their size, you should get about 8 medium patties or 10 smaller ones.
Heat up oil for deep frying. Dip each patty into egg wash and deep fry till golden brown. Drain on paper towels and serve with the mee rubus.