Mchuzi wa samaki
MCHUZI WA SAMAKI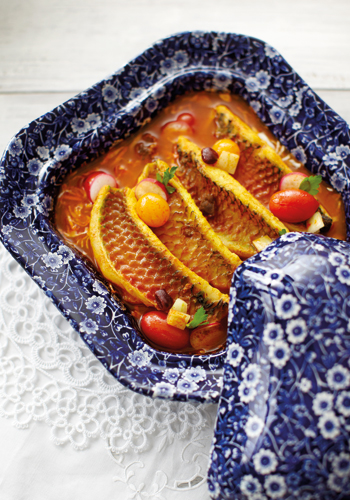 Serves 2 Prep time 30 minutes
Cook time 30 minutes
350g firm-fleshed fish (a cleaned whole fish, or serving size fish fillets)
3 tbsp olive oil (for frying)
240-480ml coconut milk
½ cup tamarind juice
1 large onion, chopped
3 fresh tomatoes, chopped into small pieces
1 or 2 sweet green peppers (or bell peppers), chopped
10 cloves garlic, minced
2 tsp of garam masala, or curry
powder
pinch salt
• Briefly fry fish in hot olive oil so that the outside is seared, but the fish is not fully cooked inside. Place fish in saucepan on high heat and simmer on low for 15 minutes, douse in coconut milk, then add tamarind juice. Set aside.
• Vigorously stir the onions, tomatoes, green peppers, garlic, garam masala and salt together. Add to the fish.
• Simmer slowly on low heat for 15 minutes until fish is fully cooked and sauce is thickened. Serve with chapatti or rice. You can also make Mchuzi wa Kamba (shrimp curry) by substituting an equal weight of shrimp. The shrimp does not need to be cooked first.