Market fish of the day with laksa paste wrapped in Ti leaves
For intense flavour, add crab and lobster shells to your fumet or seafood stock.
High in protein, soy and pork belly are beneficial for health and beauty.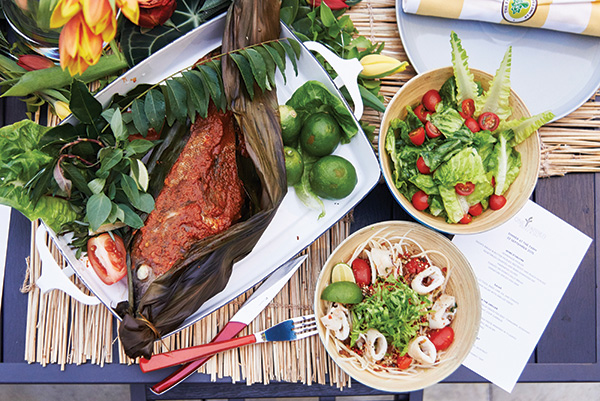 Serves 3-4 Prep time 40 minutes
Cook time 30 minutes
laksa spice paste
30g garlic cloves
50g shallots
30g dried chillies
10g laksa leaf
10g turmeric powder
10g toasted belacan
20g lemon grass
20g galangal
20g dried shrimp
10g sugar
3g salt
10ml oil
20ml lemon juice
20ml tamarind juice
600-800g whole red grouper
5 Ti or Japanese Bamboo leaves
sambal belacan and sliced shallots condiment
30g red chillies, deseeded
10g bird's eye chillies, deseeded
20g toasted belacan
5g sugar
10g small lime, juiced
10g shallots, sliced
To make laksa spice paste, blend all the ingredients except fish and Ti leaves in a food processor.
Clean the fish and pat dry. Coat the fish with the laksa spice paste evenly and wrap with Ti leaves. Use toothpicks to hold the Ti leaves together so the fish is tightly wrapped.
To make belacan condiment, blend the red chillies, bird's eye chillies, and toasted belacan in a food processor.
Add sugar, lime juice and sliced shallots to the sambal. Stir well.
Heat grill and grill the fish parcel for 15 minutes on each side (or until the Ti leaves are charred).
Serve hot with the belacan condiment.