Marinated pork roll
Marinated Pork Roll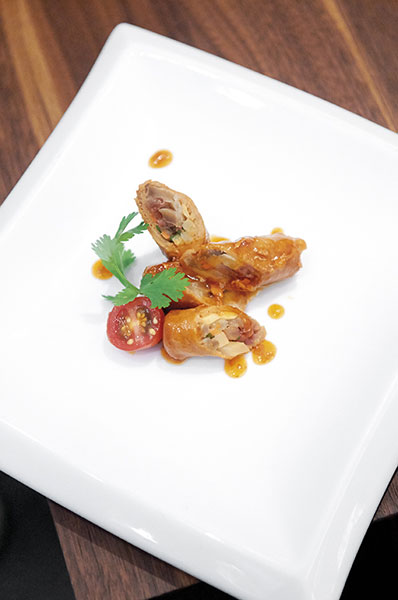 Serves 6
Prep time 45 minutes
Cook time 25 minutes
200g pork lard, julienned
100ml Chinese rose wine
1 tsp + 100g sugar
1.5kg pork loin
1 egg white
dash light soy sauce
1 tsp salt
1 tsp corn flour
80g carrots, julienned
200g bamboo shoots, julienned
200g cucumber or celery, julienned
20g spring onions, julienned
20g ginger, julienned
200g preserved liver sausage, julienned
2 tsp vegetable oil
tomato sauce
20ml tomato ketchup
10m white rice vinegar
1 tbsp water
1 tsp sugar
pan-fry sauce
20ml tomato sauce
20ml A1 sauce
10ml black vinegr
15g sugar
1 tsp corn flour mixed with a splash of water
Up to one day in advance, marinate pork lard with Chinese rose wine and 1 tsp sugar. Leave to chill.
Trim away any excess fat on the pork loin and rinse with water. Freeze to harden, then slice as thinly as possible. Season the pork slices with egg white, light soy sauce, salt, remaining sugar and corn flour.
Place sliced pork loin on a cutting board and top with 2-3 pieces of each julienned ingredient. Roll tightly in the shape of a sausage, trimming both ends.
Mix all the ingredients for the tomato sauce together. Measure 20ml and incorporate with the ingredients for the pan-fry sauce.
Place oil in a frying pan and pan-fry pork rolls till golden brown, about 12-15 minutes. Add more oil if necessary. Drain on paper towels and add the pan-fry sauce to the frying pan. When the sauce has thickened slightly, add in the pork rolls and stir evenly so every roll is covered with sauce.