Lychee roast chicken
This take on the traditional roast chicken marries the sweetness of lychees and the savoury goodness of the roast.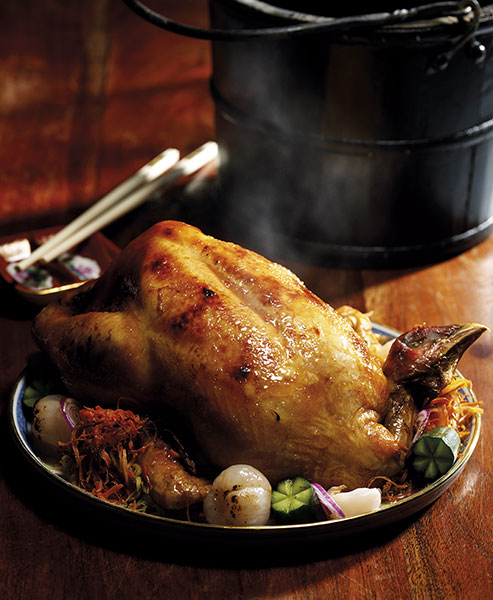 Serves 4
Prep time 15 minutes + 2 hours marinating time
Cook time 50 minutes
1.5kg whole chicken
3 tbsp soya sauce
1 tbsp sea salt
3 tbsp Chinese orange oil
1 tsp sugar
½ cup lychee purée, from canned lychees
lychee sauce
2 tbsp olive oil
1 tsp garlic, chopped
1 tsp ginger, crushed
20 fresh lychees, shelled and de-seeded (save the shells for later use)
1 can lychees, puréed till fine (save the syrup)
1 cup lychee syrup
2 tbsp tomato sauce
1 tsp red chilli flakes
100g spring onion heads, chopped
Marinate the chicken with the soya sauce, salt, Chinese orange oil, sugar, and lychee purée for 2 hours.
For the lychee sauce, heat up a wok with oil and lightly fry the garlic and ginger until fragrant.
Add in the rest of the sauce ingredients one by one, simmering for 3 to 5 minutes or until it has thickened. Set aside.
Preheat the oven to 165°C and line the tray with a layer of lychee shells, placing the chicken on top of it.
Roast the chicken for 25 minutes.
Remove from the oven, cover it with a silver foil and further roast it for another 25 minutes or until it is cooked.
Serve the roast chicken with some fresh lychees and lychee sauce.