Luxe Singapore's pandan madeleines
For intense flavour, add crab and lobster shells to your fumet or seafood stock.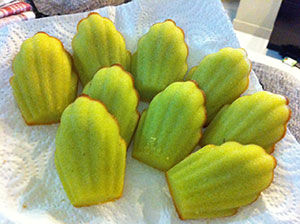 Serves 24 Prep time 30 minutes + 1 hour chill time
Cook time 10 minutes
3 large eggs, at room temperature
130g caster sugar
1⁄8 tsp salt
175g plain flour
1 tsp baking powder
120g unsalted butter, melted
2 tbsp freshly squeezed pandan juice
In the bowl of an electric mixer, whisk eggs, sugar and salt until thick and frothy.
In a separate bowl, sift flour and baking powder together. Gently fold into egg mixture.
Fold melted butter and pour in juice into the batter.
Refrigerate for at least 1 hour before baking – ensuring it reaches a thick consistency that will fall off your spoon in glops. Resting the batter for at least 1 hour is crucial for it lets the flour hydrate fully and creates a crisp outer shell with a signature 'bump'.
Prepare madeleine moulds by buttering and flouring them, then letting them sit in a cool room for at least 30 minutes.
Preheat oven to 200°C.
Fill moulds with batter till ¾ full then bake till puffed, about 10 minutes.
Turn out madeleines to cool, keeping them under a damp cloth so they stay moist.
variations
At Luxe, pandan madeleines are served with kaya or handmade coconut curd. They go just as well with coconut ice cream. Alternatively, vary the flavour of the madeleines by replacing pandan juice with 1 tsp vanilla paste or pipe in your favourite jam by filling moulds with batter until ½ full, adding a layer of jam or curd, then covering with batter before baking. Serve with fresh cream on the side.
Read more in the September 2015 issue of epicure.