Lobster roll
If you can't get enough of lobster, here's five ways to savour the undisputed king of crustaceans.
Can't get enough of the latest seafood rage? Build your own rolls with as much lobster salad as you can muster. Chef's tip: pan-fry your roll until toasty and golden brown in melted butter first. It makes all the difference.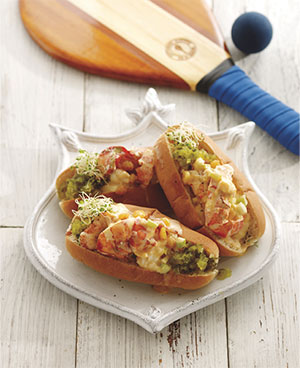 Serves 4 Prep time 35 minutes
Cook time 10 minutes
lobster salad
4 tbsp mayonnaise
2 tbsp puréed mango
3 tbsp shallots, minced
1 tbsp celery, minced
1 tbsp coriander root, minced
4 tbsp golden raisins, soaked in warm water and drained
1 tbsp apple cider vinegar
2 tsp fine sugar
4 Boston lobsters, boiled, cracked and meat cut into bite-sized pieces
4 hot dog buns
2 tbsp salted butter, melted
4 tbsp gherkins, finely chopped
1 tbsp hot mustard
½ cup alfalfa sprouts
Combine all the ingredients for lobster salad in a large chilled bowl and toss well. Keep chilled until ready to use.
Split each bun partially down the middle. Brush insides with melted butter and pan-fry lightly on all sides until warm and golden.
Top each bun with a generous portion of lobster salad, gherkins, hot mustard and alfalfa sprouts.
Excerpt from the November 2014 issue of epicure.