Lemon cream cookies
Remember those lemon cream puff biscuits from Khong Guan? Replicate the same familiar taste in the kitchen with the help of a few simple ingredients. These can keep for up to four days as they contain no preservatives.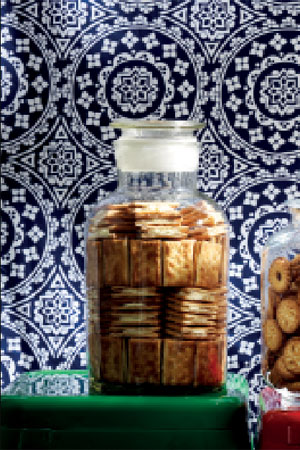 Prep time 40 minutes
Cook time 20 minutes
Chill time (in the fridge) 30 minutes
Makes 30 cookies
1 cup butter, softened
1¼ cups sugar
1 tspn baking powder
¼ tspn salt
1 egg
1 tspn vanilla
2¼ cups all-purpose flour
2 tbsp regular cooking oil
Beat butter using a mixer on medium to high speed for 30 seconds, then add 1 cup of sugar, baking powder and salt. Keep beating until mixture is combined, scraping down the sides of the bowl occasionally.
Add egg and vanilla and mix.
Mix in as much flour as you can with the mixer and then stir in any remaining flour. If necessary, cover and chill dough in the refrigerator for 30 to 60 minutes or until dough is easy to handle.
Preheat oven to 177°C. Roll dough into 1-inch balls and shape the dough balls into rectangles cuboids with your fingers.
Place the cookies 2 inches apart on an ungreased cookie sheet and using a test pin, poke 12 holes on each cookie in rows of 4.
Bake cookies for 15 minutes then brush oil over the cookies. Bake for another 2 minutes or until tops are slightly crackled and sides are set and brown. Transfer cookies to wire racks and let cool.
lemon cream
1/2 cup unsalted butter
2 tbsp lemon paste
¼ cup sugar
To make lemon cream, whisk butter, sugar and lemon paste together well.
Spread lemon cream between two cookies and wedge them together to make one lemon cream cookie.