Lamb chop pesh awari (tandoori lamb chop)
The use of black cumin in this dish is most ideal because its nutty and earthy flavour complements meat extremely well and, best of all, it aids digestion.
Serves 12 to 14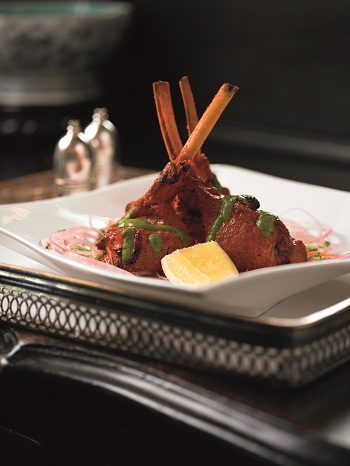 Prep time 70 minutes
Cook time 20 minutes
First marinade
30g fresh ginger
20g garlic
15g black cumin
30ml lemon juice
salt to taste
Yoghurt marinade
200g green papayas, chopped
1kg yoghurt
60g Kashmir chilli powder
60g coriander powder
40g masala garam
40g vinegar malt
40g chat masala
30g chilli flakes
30g kasoori methi
30g yellow chilli powder
10g green cardamom powder
150ml vegetable oil
50g unsalted butter
Garnish
1 jar mint chutney
1 onion, thinly sliced
• Slice lamb rack into single chops.
• Pound ginger and garlic together to make a paste.
• Marinate lamb with ginger garlic paste, salt, lemon juice and black cumin.
• Pound green papayas to make a paste.
• Beat yoghurt together with the green papaya and all the spices.
• Rub lamb thoroughly with yoghurt marinade, reserving some for basting.
• Keep marinated lamb in refrigerator for 40 minutes.
• Mix reserved marinade with oil and butter and set aside for basting.
• Lay the lamb chops on a roasting pan and roast in a pre-heated oven of 220°C for 20 minutes or until desired doneness is
achieved. Baste lamb on both sides while roasting.
• Serve with mint chutney and thinly sliced onion rings.
Negi says: "The use of black cumin in this dish is most ideal because its nutty and earthy flavour complements meat extremely well and, best of all, it aids digestion."