Kueh dadar with celup sauce
"I never knew self-grated coconut could make such a difference to the overall taste of a dish. The coarse strands have a much fuller taste than machine-grated coconut." – Sheila Salleh
"I never knew self-grated coconut could make such a difference to the overall
taste of a dish. The coarse strands have a much fuller taste than machine-grated
coconut." – Sheila Salleh
Serves 8 Prep time 20 minutes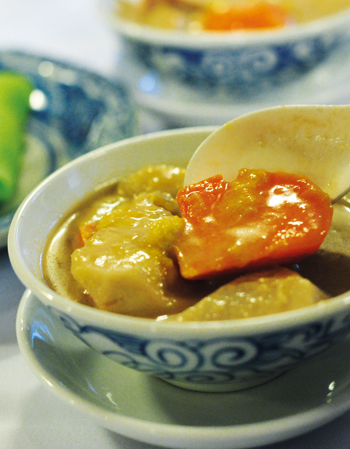 Cook time 20 minutes
Advertisement
crêpes
3½ cups plain flour
3 eggs
½ tbsp salt
4 cups coconut milk
1 tsp green food colouring
1 tsp red food colouring
coconut jam
250g gula melaka (palm sugar)
1 cup coconut milk
200g grated coconut
1 tsp salt
2 tbsp corn flour
celup sauce
2 cups coconut milk
1 tsp corn flour
½ tsp salt
• Mix all the ingredients for the crêpes together excluding the food colouring. Divide the batter into three equal portions. Keep one
portion uncoloured. To one portion, add the red colouring and the green in another.
• Heat a small non-stick pan (approximately 10cm in diameter) and pour 3 tbsp of the coloured batters, one at a time, rotating the pan to make sure the batter is evenly spread.
• Let batter cook and brown slightly, about 1 minute. When done, turn them out, stack and leave aside.
• To make the coconut jam, crush the gula melaka and boil it with the coconut milk over low heat. When it has dissolved, add the grated coconut, salt and corn flour. Keep stirring until it starts to thicken to a jam consistency.
• Combine all ingredients for the celup sauce in a small pot over low heat. Simmer until slightly thickened, about 5 minutes.
• To serve, place 2 tbsp of coconut jam on the edge of a crêpe and tuck in the sides to make a rectangular roll. Serve with celup sauce on the side for dipping.