Kleftiko–greek bandit's lamb casserole with bread and haloumi crust
Kleftiko literally translates into 'stolen meat'. Legend has it that Greek bandits would steal a sheep from a shepherd's flock, then cook it over hot coals buried under mud to prevent smoke from escaping and giving away the location of their hideout.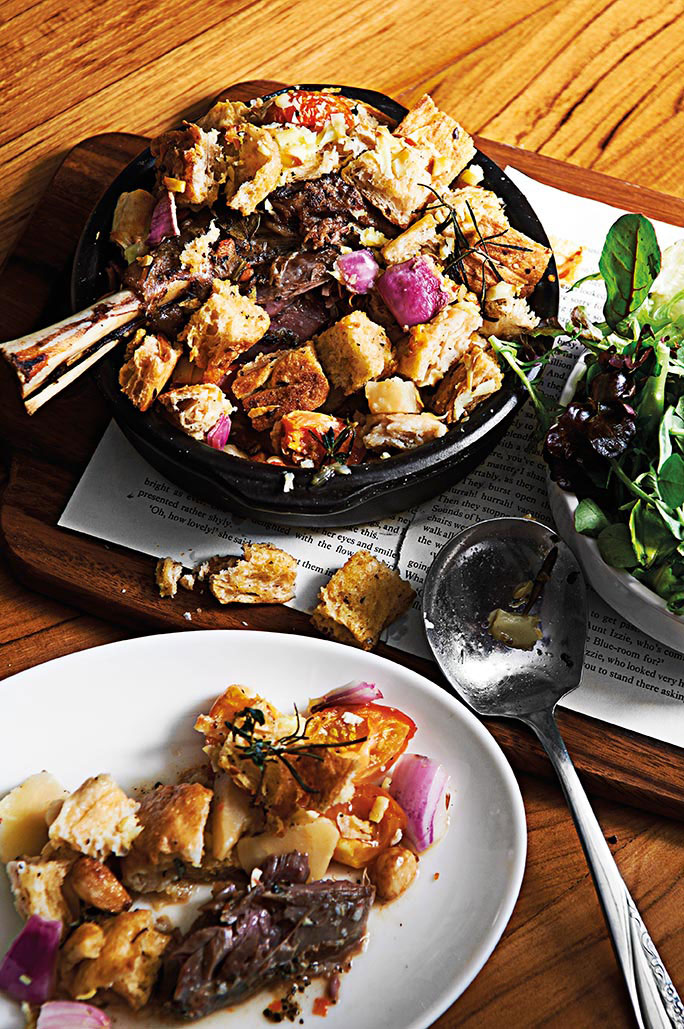 Serves 4 Prep time 30 minutes
Cook time 3 hours
casserole
700g lamb (cuts appropriate for stewing—neck, leg or shank)
2 onions, diced
2 stalks celery, diced
2 turnips, peeled and diced
5 cloves garlic, minced
2 pinches dried oregano
500ml dry white wine
3 tomatoes, chopped
1 cinnamon stick
3 bay leaves
zest of 1 lemon
crust
300g stale crusty bread, finely torn
2 sprigs rosemary, stalks discarded
100g butter, melted
90g haloumi, soaked and grated
1 head garlic, broken into individual cloves
3 tomatoes, roughly chopped
½ Spanish onion, diced
salt and pepper to taste
• Brown lamb in a hot casserole dish. Remove the lamb from the casserole and set aside.
• Using the same dish, sweat the onions, celery and turnips for approximately 7–10 minutes or till tender.
• Add in the garlic and oregano and cook for an extra 3 minutes till fragrant. Place lamb back into the casserole dish and pour wine over, and just enough water to barely cover the meat.
• Top with the tomatoes, cinnamon, bay leaves and lemon zest and season well. Cover with a lid or aluminium foil, and bake in an oven at 180°C for 2 hours till the meat is tender.
• While the casserole is cooking, mix all crust ingredients in a large bowl and season well. Keep chilled.
• After 2 hours, remove the casserole dish from the oven. Skim off any excess oil from the surface and remove just enough braising liquid to expose the top of the meat.
• Scatter the crust toppings generously over the surface of the meat.
• Place back in the oven and bake for a further 25–35 minutes till the crust is well browned and crispy. Serve immediately.
Shen says: "Kleftiko literally translates into 'stolen meat'. Legend has it that Greek bandits would steal a sheep from a shepherd's flock, then cook it over hot coals buried under mud to prevent smoke from escaping and giving away the location of their hideout."