Japchae
JAPCHAE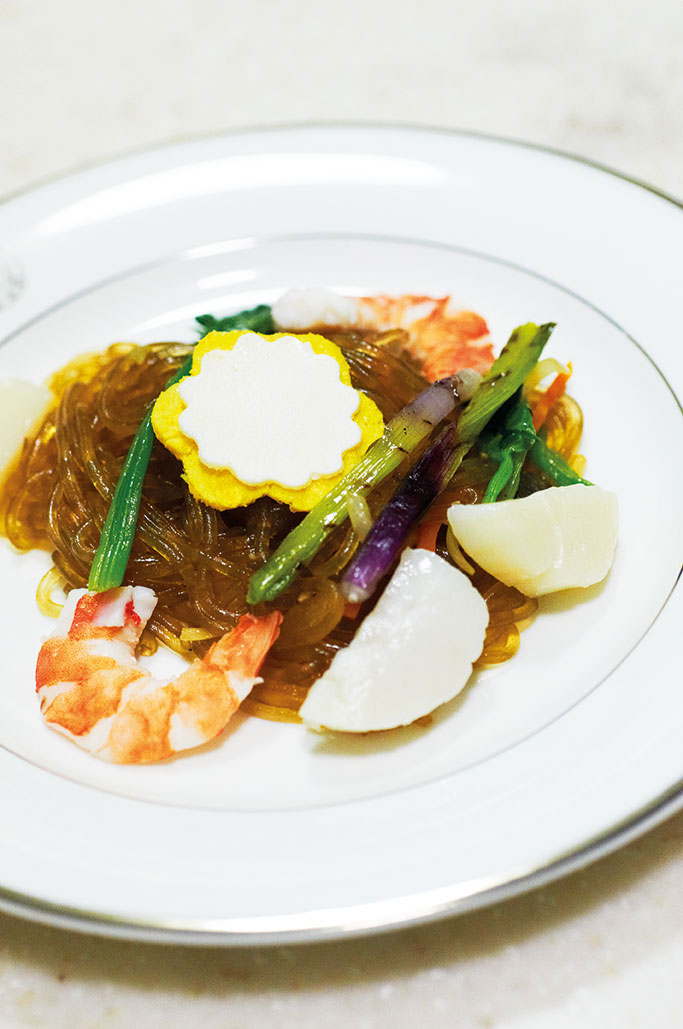 Serves 4 Prep Time 1 hour
Cook time 15 minutes
beef and mushroom marinade
150g boneless beef, sliced into 1-2cm thin strips
5 shiitake mushrooms, thinly sliced
1 tbsp soy sauce
1 clove garlic, minced
1 tbsp sugar
1 tbsp sesame oil
1 tbsp sesame seeds
pinch black pepper
• Marinate beef and mushrooms with soy sauce, minced garlic, sugar, sesame oil, sesame seeds and black pepper for at least 30 minutes.
250g dried sweet potato vermicelli
8 prawns, peeled
8 scallops, de-shelled
1 cup fresh spinach
½ carrot, peeled and julienned into 6cm lengths
1 spring onion, julienned into 6cm lengths
salt to taste
2 eggs, whites and yolks separated
1 tbsp vegetable oil
1 tbsp sesame oil
3 tbsp soy sauce
1 tbsp sugar
1 tsp sesame seeds
• Bring a pot of water to boil. Blanch vermicelli briefly until softened, then rinse under cold running water and drain.
• Grill the prawns and scallops, searing lightly, cool, then cut in half lengthwise.
• Blanch spinach and squeeze to remove excess water.
• Stir-fry carrot and spring onion until tender, seasoning with a pinch of salt to taste.
• Fry egg yolks into a thin omelette. Repeat with egg whites. When cool, cut both egg omelettes into thin strips or decorative shapes, for garnish.
• Stir-fry beef and mushroom until the beef is cooked to a medium doneness.
• In a large bowl, combine vermicelli with 1 tbsp vegetable oil, 1 tbsp sesame oil, 3 tbsp soy sauce and 1 tbsp sugar.
• Mix well and add the remaining stir-fried vegetables and beef. You may add a little more soy sauce, sesame oil and sugar to taste.
• Decoratively distribute the grilled seafood around base of noodles.
• Garnish with egg slices and a sprinkling of sesame seeds. Serve immediately.