Homemade pumpkin casoncelli with Taleggio cheese fondue & walnuts
Balance in flavours are important. Light cheese against the nutty taste of walnuts and earthy pumpkin strike that perfect balance.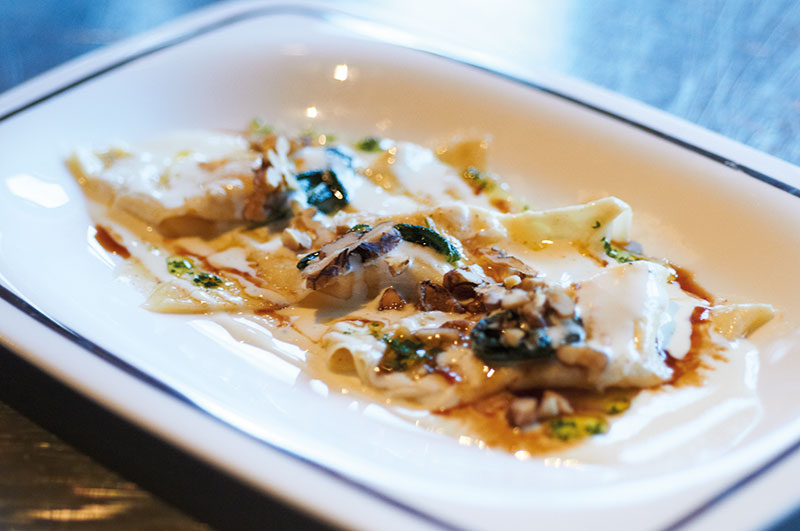 Serves 4 Prep time 35 minutes
Cook time 1 hour 45 minutes
pumpkin filling
500g butternut pumpkin, cubed
drizzle extra virgin olive oil
1 curl orange zest
1 shallot, minced
20ml white wine
1 stalk fresh rosemary
1 stalk fresh thyme
2 egg yolks
20g Parmesan cheese
20g ricotta cheese
salt and pepper, to taste
Preheat oven to 150°C. Toss pumpkin cubes with extra virgin olive oil, orange zest, shallots, white wine, rosemary and thyme. Cover with aluminum foil and bake for 1½ hours till soft.
Blend baked pumpkin into a puree and transfer into a large mixing bowl. Add egg yolks, Parmesan and ricotta cheese to thicken. Mix well and season to taste.
pasta dough
750g plain flour
250g semolina
10g salt
9 egg yolks
2 eggs, beaten
On a clean dry countertop, combine flour, semolina and salt in a mound. Make a deep well in the centre and add the egg yolks. From outside in, slowly flick in the dry ingredients with your fingertips, mixing together with the egg yolks in a circular motion.
When the dough has come together, knead it by pushing the dough down and away from you with the palm of your hand. Rest the dough for 10 minutes.
Cut the dough into 3 equal portions before rolling out with a pasta machine. Cover the dough balls with a damp towel to prevent the dough from drying up.
Cut pasta into 8cm by 8cm squares and pipe 1 tbsp of pumpkin filling in the middle of each piece.
Tilt each square of pasta so it forms a diamond shape facing you. Brush the tip furthest from you with beaten egg and fold the tip closest to you over the filling. Fold one more time to seal the edge and press the sides so the finished shape looks like a piece of wrapped candy.
Cook in boiling salted water until they float, then drain and reserve.
Taleggio cheese fondue
200g Taleggio cheese
300ml double cream
150ml whole milk
dash extra virgin olive oil
salt and pepper to taste
Combine all the above ingredients in a medium bowl and bring to a boil on low heat over a bain-marie. Remove from heat when the cheese has melted and sauce has thickened, about 10-15 minutes.
to serve
5-6 fresh sage leaves
30g unsalted butter
50ml reduced veal stock (available at Huber's Butchery)
30g walnuts, coarsely chopped and dry toasted
Combine sage and unsalted butter in a pan over medium heat. When butter has melted, toss in the casoncelli and sauté briefly.
Top with Taleggio cheese fondue, a drizzle of veal stock reduction and toasted walnuts. Serve warm.