Homemade angel hair pasta with lobster
A light tomato and white wine sauce counters the richness of tender lobster in this satisfying pasta dish.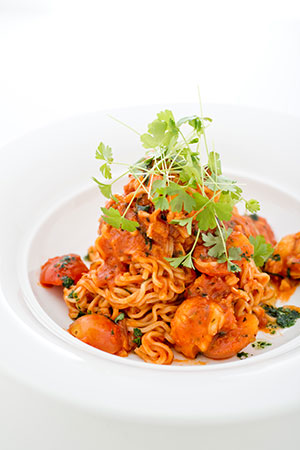 Serves 1-2 Prep time 25 minutes
Cook time 15 minutes
100g angel hair pasta
50g tomato sauce
30ml lobster bisque
100g lobster meat
10g basil leaves
20g cherry tomatoes
10g chopped garlic
2g chilli flakes
20ml white wine
salt and pepper, as needed
For the angel hair pasta:
To cook as per package instructions
Lobster bisque:
Available ready made and frozen from Fazzler/Huber's Butchery.
Lobster meat:
Boil a very large pot of water.
Salt it and add the lobster head first.
Put the lid on the pot and boil until bright red and cooked, about 2 minutes.
Drain and rinse under cold water.
To remove the lobster meat, twist off the claws. Use the back of a chef's knife to crack both sides of the claws. Pull off the shell and reserve the meat.
Use a pick to pull the meat out of the tube-like limbs attached to the claws.
Now, twist the tails off the bodies. Lay them flat on their side and press down to crack the centre.
Pull out the meat and reserve.
Sauteed the chopped garlic until fragrant.
Add the cube of lobster meat then glaze with white wine.
Add tomato sauce, lobster bisque and chilli flakes.
Add cherry tomatoes, basil leaf and seasoning.
Serve while it is still hot.