Hokkaido scallop, royale oyster, baby crevette, Romanesco variation and squid ink sauce
Complete chef Jason Tan's tasting menu at home with this bonus recipe of seafood and four variations of Romanesco.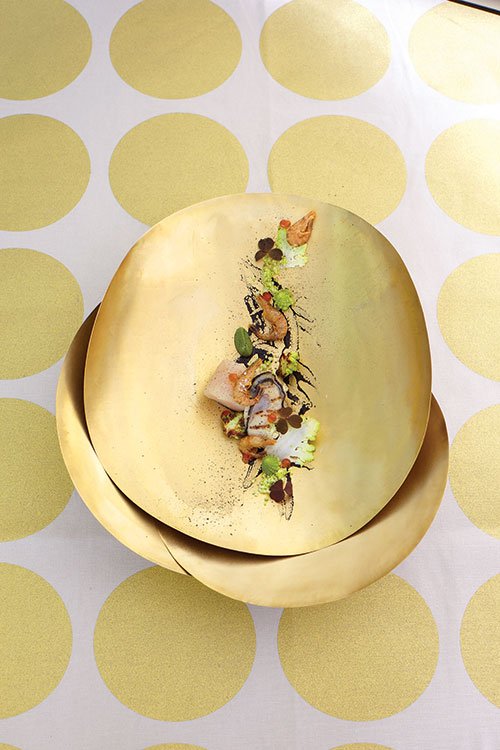 Serves 10 Prep time 45 minutes
Cook time 2 hours 20 minutes
seafood
10 Scottish diver scallops, shucked
sea salt
zest of 1 yuzu
10 France Royale oysters (No.2), shucked
chicken stock, for poaching
dash olive oil
300g Normandy petit crevettes (fresh shrimp), shelled
plain flour, for coating
1 tbsp butter
2 cloves garlic, minced
handful Italian parsley, finely chopped
Roll scallops tightly in cling wrap to keep the shape of the scallop. Steam at 56°C for 18 minutes until 80% cooked. Season with sea salt and yuzu zest.
Lightly poach oysters in chicken stock for 30 seconds, then pat dry. Coat lightly with olive then char-grill quickly for flavour.
Lightly coat crevettes with flour and fry in a shallow pan with butter until crispy. Finish with minced garlic and chopped Italian parsley.
Romanesco purée
90g white onions, chopped
1 tbsp butter
300g Romanesco, separated
10g baby spinach
Lightly sweat onions with butter until soft, then add remaining ingredients.
Cook for a further 1 hour at low heat, then purée, sieve to remove lumps and keep warm.
Romanesco variation
200g Romanesco, separated
sea salt and olive oil, to taste
Divide florets into three parts.
Steam one part at 100°C in a combi-oven for 3 minutes.
Divide one part into half florets and roast lightly in an oven until cooked
Shave the final part into thin ribbons and season with sea salt and olive oil.
squid ink sauce
50g white onions, chopped
30g green capsicum, chopped
30ml olive oil
20ml white wine
100ml chicken stock
10ml lemon juice
2 bay leaves
100ml pure squid ink
Sweat onions and capsicum in olive oil until softened. Deglaze with white wine.
Add remaining ingredients and simmer for 1 hour, then purée, sieve to remove lumps and keep warm.
To assemble, smear squid ink sauce thinly on base of a plate. Arrange an assortment of seafood on top and alternate with the different Romanesco layers.
Photography Ching
Brass plates by Tom Dixon, edit lifestyle