Hibachi grilled chicken liver and mushroom yakitori
A Hibachi steakhouse staple, Japanese chefs soak chicken liver in milk to remove smells and blood residue.
Serves 2 Prep time 1 hour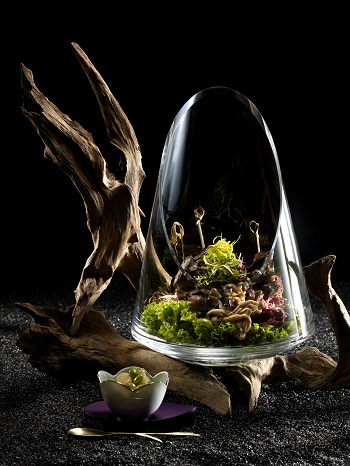 Cook time 35 minutes
80g fresh chicken livers
1 cup fresh milk
50g Japanese mushrooms
Yakitori sauce
3 tbsp rock sugar
4 tbsp sake
1 piece konbu
6 tbsp mirin
9 tbsp premium Kikkoman soy sauce
1/4 cup water
Steamed garlic edamane
10 fresh garlic
1/2 cup olive oil
1 sprig thyme
pinch salt and pepper
1 cup edamane, shelled
Garnish
35g Japanese dried seaweed
10g spring onions
20g lettuce
15g green and purple shiso
Break rock sugar into smaller pieces and add them into a pot. Caramelise sugar till a light golden brown. Heat up another pot and add sake, konbu and mirin till the alcohol burns off.
Pour sake mixture, soya sauce and water with caramelised sugar in the pot. Bring to a boil. Simmer till there are about 3-4 tablespoons of liquid. Let cool.
Combine garlic, olive oil, salt in a small pot till the garlic has been immersed in the oil. Cook slow fire for 30 minutes.
Meanwhile, season the edamane. Steam edamane for 3-4 minutes.
Soak chicken livers in milk for an hour. Drain the milk. Marinate chicken livers and mushrooms in yakitori sauce for one hour. Thread chicken livers with bamboo skewers.
Soak the seaweed in water. for 10 minutes Slice the spring onions thinly and soak in ice cold water. Pat dry.
Heat up your BBQ grill. Grill the chicken livers for 4-7 minutes.
Arrange dried seaweed, green and purple shiso leaves, spring onions and lettuce onto a plate. Add grilled chicken liver and mushroom. Drizzle with steamed garlic edamane.