Hashed brown potatoes
Hashed Brown Potatoes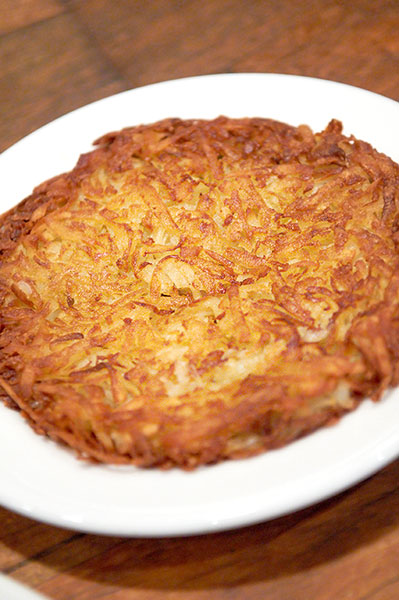 Serves 6
6 pounds russet potatoes, such as Idaho, scrubbed and rinsed
1½ tsp salt
¼ tsp freshly ground white pepper
3 cups clarified butter
Preheat the oven to 450°F ( 230°C).
Shred the potatoes, with the skins, on the large holes of a box grater into a large mixing bowl. You should have about 11¼ cups shredded potatoes. Put the shredded potatoes in a large bowl and fill it with cold water. Drain and repeat until the water runs clear. Wrap the potatoes in a dish towel and pat dry, or dry by spinning the potatoes in a salad spinner. Transfer to a mixing bowl. Season the potatoes with the salt and pepper, or more to taste.
In a 10-inch non-stick sauté pan, heat ½ cup of the butter over medium-high heat. Add approximately one-sixth (less than 2 cups) of the shredded potatoes to the pan. Using a spatula, shape the potatoes into a round large enough to fill the pan. Do not press down on the potatoes. Cook, occasionally shaking the pan, for 5 to 6 minutes, or until the bottom is golden brown. Turn with a spatula, level the top, and cook for 3 to 4 more minutes, or until golden brown on both side. Life the pancake from the pan and transfer to a wire rack to drain. Repeat to make five more hash browns.
Transfer the hash browns, still on the rack, to a baking sheet. Transfer to the oven and bake for 4 to 5 minutes, or until heated through.