Hara kebab (spinach patties)
A delicious and crispy spinach kebab stuffed with cheese. Black cumin draws out the nutty flavours of the cashew nut. The mild sweetness of the seed has a natural affinity with vegetables.
Serves 12 to 14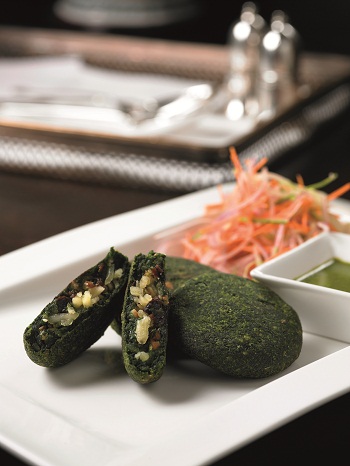 Prep time 40 minutes
Cook time 10 minutes
1kg spinach leaves
35g dhal channa
20g paneer, grated
25g chat masala
4g garam masala
12g yellow chilli powder
5g green cardamom
20g cheddar cheese, grated
50g cashew nuts, chopped
12g black cumin
5g kasoori methi, or dried fenugreek
leaves, crushed
salt, to taste
500ml cooking oil
• Blanch spinach quickly and transfer to food processor and pulse until it forms a dense puree.
• Dry roast dhal channa in a pan and grind into a powder.
• Mix spinach puree, dhal channa powder, grated paneer with chat masala, garam masala, yellow chilli powder and green cardamom. Set in the fridge for 15 minutes.
• Mix cheddar cheese, cashew nuts, black cumin, kasoori methi and salt together to form a cheese mixture.
• Make small patties with the spinach mixture and wrap a teaspoon of cheese mixture in each patty.
• Deep-fry the spinach patties in hot oil. Sprinkle some extra chat masala on top of fried patties.
• Serve hot.
Negi says: "A delicious and crispy spinach kebab stuffed with cheese. Black cumin draws out the nutty flavours of the cashew nut. The mild sweetness of the seed has a natural affinity with vegetables."