Gucchi mattar (morels with green pea)
Morels are frequently used in North Indian cuisine. Sautéed black cumin refines the morel's flavour while allowing it to retain its own unique character.
Serves 12 to 14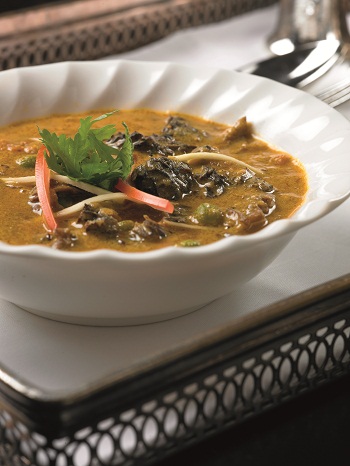 Prep time 55 minutes
Cook time 40 minutes
150g dried morels
250g tomatoes
1kg red onions
40g garlic
10g green chilli
300g raw cashew nuts
150ml ghee
100ml cooking oil
20g black cumin
250g green peas
40g yellow chilli powder
30g Kashmir chilli powder
30g masala garam
5g green cardamom powder
salt, to taste
Garnish
• Soften the morels in hot water for 15 minutes before dicing.
• Strain the morel water and reserve it.
• Finely chop tomatoes, red onions, garlic and green chilli.
• Fry cashew nuts until golden and pound into a paste.
• Heat ghee and oil in a pan and sauté black cumin, chopped onion and garlic until fragrant.
• Add chopped tomato and green chilli to the pan and cook until soft.
• Add morels, green peas, cashew nut paste, morel water, and continue cooking.
• Add all the spices and cook for another 20 minutes.
• Serve hot.
Negi says: "Morels are frequently used in North Indian cuisine. Sautéed black cumin refines the morel's flavour while allowing it to retain its own unique character."