Grilled Wagyu Tomahawk
Bring out the juicy slabs of pork chops, ribeye steaks and lamb racks! There's nothing like hearty portions and a feast of flavours to ignite your guests' appetites.
Essentially bone-in ribeye steaks, tomahawks boast more flavour with their entire rib bone intact. Bring the meat to room temperature at least 30 minutes before grilling. If it's too cold, you risk drying out its exterior before the insides have a chance to fully cook through.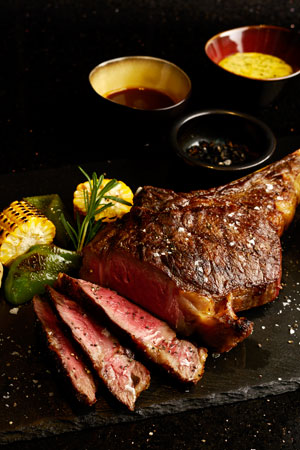 Serves 3
Prep time 30 minutes + 30 minutes rest time
Cook time 1 hour 15 minutes
natural jus
100ml beef stock
1 sprig thyme
1 garlic clove, crushed
5g cold butter
salt and freshly ground black pepper, to taste
Combine beef stock, thyme and garlic clove in a medium saucepan over medium-high heat. Reduce till thickened and half the original volume, about 10 minutes.
Stir in butter just before removing from heat to impart shine. Strain jus and season to taste.
peppercorn sauce
5g butter
pinch black peppercorns, crushed
10ml Cognac
50ml beef stock
20ml liquid cream
Melt butter in a medium saucepan. Add crushed peppercorns and roast on low heat to avoid burning them.
Deglaze with Cognac, then add beef stock and cream. Reduce over medium heat until thickened into a shiny glaze.
béarnaise sauce
30g butter
10g shallots, peeled and thinly sliced
pinch black peppercorns, crushed
50ml white wine
10ml sherry vinegar
2 stalks fresh tarragon, finely chopped, stems reserved
2 stalks flat-leaf parsley, finely chopped, stems reserved
2 egg yolks
pinch salt
To make clarified butter, place butter in a saucepan and melt over low heat. Remove from heat and let cool slightly. Carefully skim foam from the top and slowly reserve resulting liquid, discarding milky solids at the bottom of the pan.
In a medium saucepan, add sliced shallots, crushed peppercorns, white wine, sherry vinegar and herb stems. Reduce until almost dry. Remove stems.
In a separate saucepan, combine egg yolks with 2 soup spoons of water and salt. Whisk vigorously over low heat until you achieve a thick foam, then continue whisking until it takes on a mousse-like texture.
Once creamy, remove from heat and add reserved shallots. Slowly drizzle in clarified butter, whisking until all the butter has been incorporated and sauce is completely emulsified. Check seasonings, adding finely chopped tarragon and parsley only at the last minute to prevent them from turning brown.
tomahawk
1kg bone-in Australian Wagyu
tomahawk (marbling score 4)
10ml olive oil
2 tsp table salt
freshly cracked black pepper
fleur de sel, to finish
Bring tomahawk to room temperature for at least 30 minutes before cooking. Drizzle with olive oil and rub in salt and black pepper. Preheat grill to hot and oven to 180°C.
Sear over a hot grill for 4-5 minutes per side. For a medium finish, cook in the oven until steak's internal temperature reaches 60°C. Rest for at least 5 minutes at room temperature before carving or serving. Reheat in the oven for 1 minute if needed. Finish with a sprinkling of fleur de sel.
accompaniments
40g fresh corn, grilled
25g green bell pepper, grilled
1 garlic head, baked
1 sprig rosemary, tips removed and kept
in iced water till ready for use
Serve tomahawk with accompaniments, and sauces in individual cocottes.