Grilled lamb with turmeric tomatoes
When cooking with acidic ingredients such as vinegar or tomato, a non-reactive cookware prevents metals from reacting with acids and leaching into food.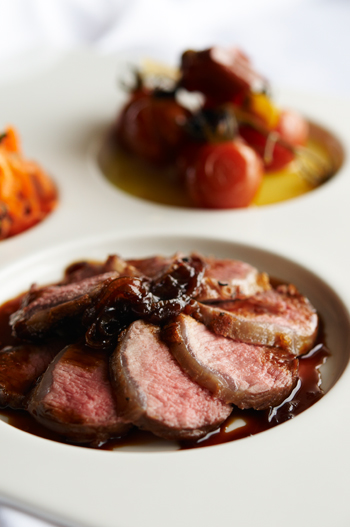 Serves 4 Prep time 30 minutes
Cook time 12 to 15 minutes
2 baby lamb racks, trimmed andbones removed
turmeric tomato vinegar mix
500g cherry tomatoes on the vine
2 cups white sugar
6 tsp salt
500ml cider vinegar
500ml Japanese vinegar
1 ginger bulb, thinly sliced
chilli orange oil
grated zest from 5 large oranges
5 dried chillies, chopped roughly
6 tbsp salted black beans, soaked
4 cloves garlic, thinly sliced
4 cups corn oil
½ cup sesame oil
8 tsp turmeric powder
carrot salad
1 tbsp coriander seeds, toasted
1 tbsp cumin seed, toasted
1 tsp saffron threads, toasted
¼ cup extra virgin olive oil
2 red onions, peeled and finely chopped
3 cloves of garlic, finely minced
¼ cup currants
3 organic carrots, peeled and grated
4 sprigs flat leaf parsley, chopped
4 sprigs mint leaf, finely chopped
¼ cup pine nuts, roasted
2 tbsp extra virgin olive oil
onion sauce
2 red onions, thinly sliced
40g butter and olive oil
2 cups veal jus
Sear the lamb racks in a hot pan and roast in a 160°C oven for 12 to 15 minutes. Then, allow to rest for 5 minutes.
To make turmeric tomato vinegar mix, combine all ingredients in a non-reactive saucepan such as glass or enamel ones, and bring to a simmer. Stir to dissolve salt and sugar. Remove pan from heat and let it rest for 15 minutes.
To make chilli orange oil, combine all ingredients in a heavy saucepan, bring to 225°C. Let the mix bubble for 20 minutes. Remove from heat and let it cool. Be careful not to burn the ingredients.
Combine oil and vinegar mixtures in a saucepan and reheat. Add 8 tsp turmeric powder. This oil gets more flavourful the longer it sits, so make it at least three days before use.
To make carrot salad, grind coriander, cumin and saffron in a mortar and pestle. Heat up extra virgin olive oil in a pot and add onion and garlic to let them sweat for 3 minutes. Add the spices and continue to cook for 5 minutes until the onions turn soft and translucent. Add currants and sweat for another 3 minutes. Allow to cool. Place the grated carrots in a bowl, then toss with the sautéed onions, garlic and herbs mixture, roasted pine nuts, and extra virgin olive oil.
To make onion sauce, sauté red onions till soft. Add veal jus. Simmer for 15 minutes.
To present, arrange the turmeric tomatoes and carrot salad separately on a plate. Thinly slice the lamb and spoon the onion sauce over. Serve.