Grilled baby quail with brandy hosin glaze
Cooking quail is like cooking chicken, only faster and easier because of its smaller size. A sweet and sticky glaze coats the tender rosy meat which has a texture similar to that of chicken thigh.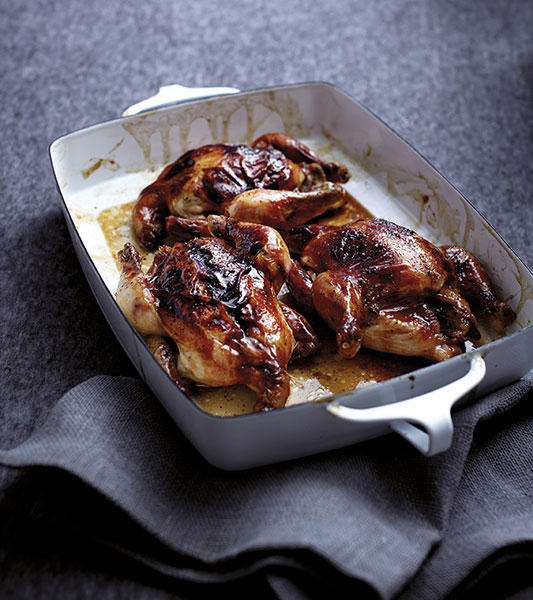 Serves 2
Prep time 10 minutes
Cook time 25 minutes
1tbsp olive oil
4 baby quail, gutted and cleaned
brandy hosin glaze
120g red shallots, sliced
5 whole garlic, peeled and smashed
1 cup brandy
½ cup white wine
juice from 1 green lime
3 tbsp hosin sauce
30g aged dried orange peel
70g rock sugar
Heat up a grill pan to red hot with oil , lightly sear all sides of the quail to a light golden brown. Set aside.
Using the same grill pan, fry the shallots and garlic until golden brown.
Deglaze with the brandy and white wine, burn off the alcohol. Mixture will be reduced to about half.
Add in the rest of the ingredients and bring to a boil.
Pour the sauce over the quail and let it marinate for 20 mins before roasting in the oven at 180°C for 15 mins.