Green beans & pancetta
Barely glistening with the fat from the pancetta, the seasoning is naturally infused by baking, requiring nothing more than the two ingredients for a deep, savoury flavor.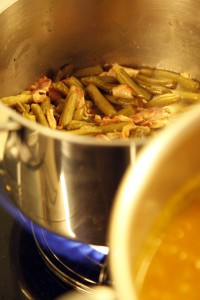 Serves 6 to 8 Prep time 10 minutes
Cook time 1 hour
500g fresh green beans
6 to 8 slices pancetta, diced finely (can be substituted with bacon, but it will impart a smokier flavor to the dish)
In boiling water, blanch the beans for 30 to 45 seconds. Plunge in ice bath to cool immediately.
Cook the diced pancetta until slightly crispy, but not too hard. Reserve the fat.
Gently fold the beans, bacon and desired amount of fat together in a baking dish, getting a thin, even sheen on the beans.
Be careful to not break the beans. (note: control the amount of fat on the beans by using just half the fat and adding more if needed)
Bake the beans, covered at 175°C oven until tender for about 1 hour.