Goong ob woon sen (glass noodles with prawns)
Perfect for a simple afternoon, this is a palatable and fuss-free dish that is a great alternative for a one-dish meal.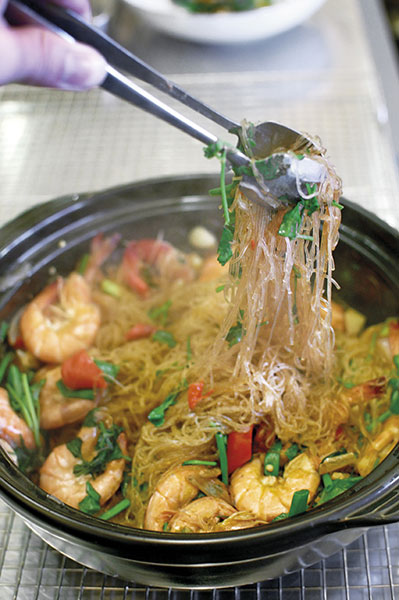 Serves 4 Prep time 30 minutes
Cook time 25 minutes
2 tbsp vegetable oil
10 white peppercorns
4 cloves garlic, peeled and roughly chopped
2-3 shallots, peeled and roughly chopped
1 knob ginger, peeled and sliced into matchsticks
1-2 bird's eye chilli (optional), sliced
2 coriander roots, roughly chopped
2 stalks Chinese celery, roughly chopped
2 stalks spring onion, roughly chopped
200g fresh prawns, deveined with heads removed and shell on
200g glass noodles (tang hoon), soaked in water to soften and drained
1 tbsp Chinese wine (hua diao jiu)
1 tbsp evaporated milk
sauce
1 tbsp Maggi seasoning
1 tbsp oyster sauce
2 tbsp light soy sauce
1 tsp dark soy sauce
1-2 cups chicken stock
½ tsp sugar
garnish
sliced red chilli
chopped coriander
In a deep claypot, add oil and toast white peppercorns till fragrant.
Add garlic cloves, shallots, ginger and chilli (if desired). Layer coriander roots, Chinese celery and spring onions on top. Add prawns in a single layer and top with softened glass noodles.
In a separate bowl, combine all the sauce ingredients together and mix well.
Pour in the sauce over the glass noodles (it should cover at least 60 percent of the claypot ingredients) and cover. Cook over high heat for 10-12 minutes.
Remove cover and toss well. When the prawns are cooked, add hua diao jiu and drizzle evaporated milk over. Add garnishes, cover and cook for an additional 2-3 minutes. Serve straight in claypot.