Gong bao style braised baby abalone
Laced with dried chillies and flash fried with Sichuan peppercorns for heat and fragrance, the viscous gong bao sauce is the perfect counterpoint to the abalone's firm texture and clean aftertaste.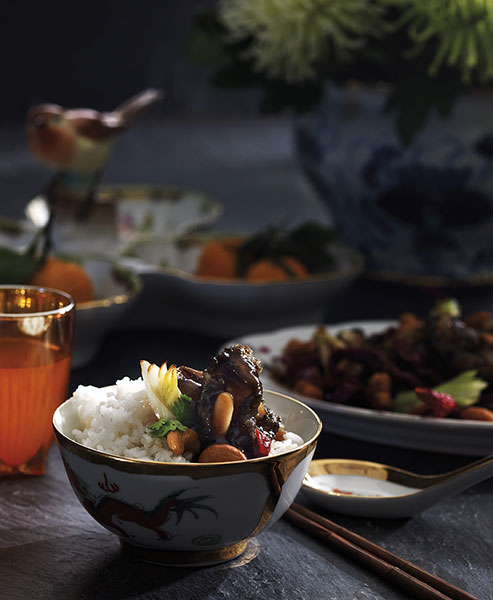 Serves 4
Prep time 10 minutes
Cook time 25 minutes
1½kg fresh baby abalones
marinade
1 tbsp Shaoxing rice wine
2 tbsp cornstarch
1 tbsp water
1 tsp salt
1 tbsp light soy sauce
sauce
3 tbsp sugar
1 tbsp dark soy sauce
1 tbsp light soy sauce
2 tbsp Chinkiang black Chinese vinegar
1 tbsp sesame oil
2 tbsp water
1 tsp whole Sichuan peppercorns
2 tbsp peanut oil
2 garlic cloves, peeled and minced
2 knobs fresh ginger (each approximately 3 inches long), peeled and minced
4 sprigs spring onion (only the white portions, cut into chunks)
1 sprig coriander root, smashed
½ cup dried red chillies.
1 tbsp cornstarch
½ cup salted cashew nuts
Wash, clean and pat the abalones dry.
Mix the marinade ingredients well, add the abalones and let the mixture rest at room temperature for 30 minutes
Combine the sauce ingredients well in a small bowl. Set aside.
Heat up peanut oil in a wok, add in the garlic and ginger. Fry for a minute then add spring onion, coriander root and dried chillies.
Fry the mixture for 1 minute under high heat, tossing continously (be careful not to burn the spices).
Add in the abalone and fry everything over high heat, stirring constantly for a few minutes until the meat is cooked.
Add in the reserved sauce, thicken with cornflour and stir-fry for 1 minute. Finally, toss in the cashew nuts and mix well.