Gỏi cuốn (Vietnamese spring rolls)
These tightly wrapped, translucent rolls are an iconic Vietnamese treat which can be filled with your favorite ingredient. The pork inside is Xá Xíu, a unique Vietnamese version of char siu pork, used in Cao Lau noodles—a dish unique to Hoi An.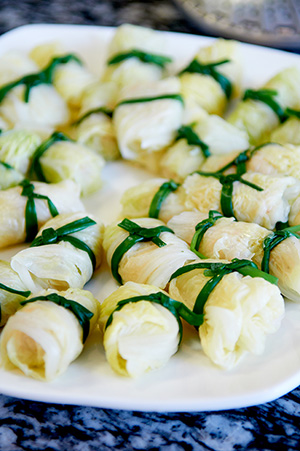 Serves 8 Prep time 20 minutes
Cook time 1 hour (including marination time)
pork filling (can be made in advance)
5g Chinese five-spice powder
½ tsp salt
¼ tsp ground pepper
1 tbsp minced garlic
2 tbsp soy sauce
500g lean pork loin (whole)
2 tbsp cooking oil (canola or palm is best)
water (or coconut water) to cover meat
Mix all ingredients except the pork together and spread all over outside of the pork. Marinate for 40 minutes.
Heat a small pot with cooking oil. Brown the outside of the pork to create a thin crust.
Add boiling water (or coconut water) just to cover the meat and simmer until meat is cooked tender.
Remove pork, let cool, and slice into thin (about 1cm) slices.
rolls
8 sheets of moist rice paper
3 cups mixed fresh herbs in total, ideally to include: anise, basil, mint
Vietnamese mint
butter lettuce
coriander
shredded morning glory stems
bean sprouts
chrysanthemum leaves
16 slices of pork (from above)
12 medium prawns, shelled, cooked and cut in half
16 flat garlic chives, 6cm lengths
nuom cham dipping sauce (optional)
Place a sheet of rice paper o counter and wipe with wet cloth to moisten surface.
Place a small handful of mixed herbs at edge of paper closest to you, then two slices of pork next to herbs, followed by three slices of prawn (outer sides down) next to pork.
Roll paper away from you, over herbs and pork until you reach the prawns, fold in sides of paper, place garlic chives on right hand side, then finish rolling up. Make sure the end of the rice paper sticks to the roll.
Serve with nuom cham, if desired.