Glutinous rice with dried and fresh scallops
The Mandarin characters for scallops is dai zi, a homophone for 'bring babies'. Besides being a symbol of fertility, these plum treasures are nestled within mounds of sticky glutinous rice for a hearty, filling treat.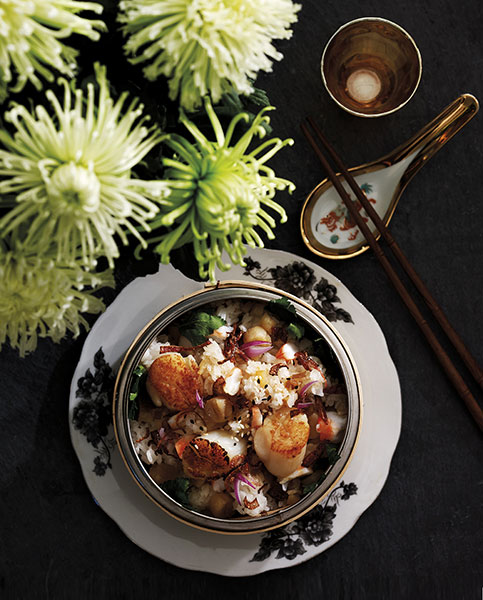 Serves 4
Prep time 10 minutes
Cook time 25 minutes
filling
50g sweet potatoes, skinned, cut into bite-size pieces and parboiled
2 tbsp skinless peanuts, roasted and ground
2 tbsp white sesame seeds, toasted
1 tbsp oyster sauce
3 tbsp dried scallops, presoaked in water
1 tbsp groundnut oil
3 tbsp red onions, diced
1 cup glutinous rice
1 cup light chicken stock
garnish
10 fresh scallops, seared
10 tiger prawns, blanched and cut into bite-size pieces
2 tbsp fried shallots
Combine ingredients for the filling in a bowl.
Heat up the oil in a non-stick pan and fry the onions until fragrant.
Add in the filling ingredients and simmer for 2-3 minutes
Add in the rice and chicken stock, bring to a boil and then take off the stove.
Pour the mixture into a rice cooker and cook till done.
Once the rice is cooked, top with seared scallops, tiger prawns and fried shallots.