Fragrant Asian roast beef
Instead of setting out additional tableware for all the extra sides, bundle everything—garlic rice, fork-tender beef and pickled vegetable—in large lettuce cups for neat handheld wraps.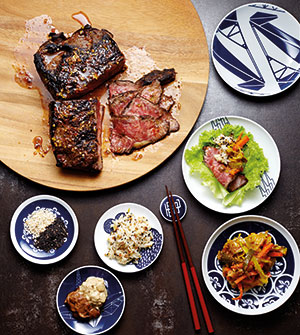 Serves 8 to 10
Prep time 45 minutes + 1 hour rest time
Cook time 1 hour 30 minutes
2 tbsp olive oil
1 ribeye steak (approximately 500g)
½ cup Thai sweet chilli sauce
½ cup sweet rice wine
2 tbsp fish sauce
2 tbsp hot mustard
1 tbsp coriander root, roughly chopped
2 tsp flaky salt
1 tsp black sesame seeds, toasted
Heat a cast iron pan with olive oil over high heat. When the pan is extremely hot, pan-sear the beef on all-sides till slightly charred. Remove from pan and let the meat rest.
In the meantime, add all the seasonings in a dish large enough to contain the beef. Whisk well to combine.
Coat the beef on all sides with the seasonings and leave to marinate for at least 10-15 minutes.
Preheat the oven to 180°C on fan mode.
Place the beef on a baking tray and roast for 30 minutes, basting the meat with the liquid marinade every 5-10 minutes.
Turn off the heat, letting the beef rest in the warm oven for approximately 10 minutes.
Slice the beef thinly and keep warm until ready to serve.
soya sesame dressing
1 tbsp sesame oil
1 tsp white sesame seeds, toasted
1 tbsp black sesame seeds, toasted
2 tsp premium soy sauce
1 tsp cider vinegar
In a clean glass jar, combine all the ingredients, cover and shake well. Drizzle over the warm beef slices.
garlic rice
2 tbsp garlic, minced
2 tbsp olive oil
1 cup jasmine rice
1 cup water
pinch salt
In a large saucepan, sauté the garlic in olive oil until fragrant. Add the rice and stir until the grains are well coated with the garlic oil.
Transfer to a rice cooker, top with water and add a pinch of salt. Cook the rice and keep warm.
achar (pickled vegetables)
100g cucumbers, preferably locally grown
2 tsp table salt
40g white radish, peeled, cut to strips, lightly blanched in hot water and refreshed in iced water
100g carrots
25g white cabbage
1 red chilli, deseeded
1 green chilli, deseeded
30g green apple, deseeded and cut into thin wedges
30g pineapple, cut to bite-sized pieces
1 dried chilli, pounded
1 tsp turmeric, lightly toasted
2 tbsp garlic, pounded
2 tbsp roasted peanuts, pounded and lightly toasted
50g superfine sugar
3 tbsp white vinegar
1 tbsp olive oil
1 head iceberg lettuce, rinsed and leaves separated
Cut the cucumbers into 1cm strips and discard the seeds. Place in a large sieve and sprinkle ½ tsp of salt. Leave the cucumbers to drain off excess water, about 30 minutes.
Peel the white radish and carrots and cut to 1cm strips. Blanch in hot water, drain and plunge in iced water to refresh. Drain and set aside.
Cut the cabbage into bite-sized pieces and blanch briefly in hot water. Drain and set aside. Repeat this step for the green and red chillies.
Combine the vegetables with the remaining salt, green apple, pineapple, dried chilli, turmeric, pounded garlic, peanuts, sugar and vinegar. Set aside for 1 hour.
Drain off excess liquid and stir in the oil just before serving with the beef, sesame dressing and garlic rice. Set out lettuce leaves to use as 'cups' for the sliced beef.