Foie gras espuma, salted biscuit and rhubarb confiture
Foie Gras Espuma, Salted Biscuit and Rhubarb Confiture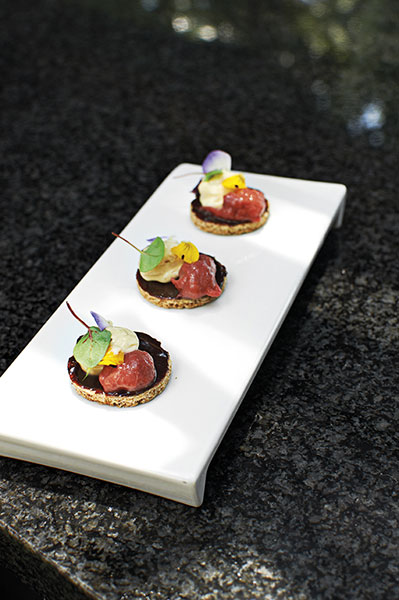 Makes 20
Prep time 30 minutes
Cook time 1 hour
salted biscuit crumble
290g flour
120g icing sugar
pinch salt and pepper
pinch five spice powder
pinch baking soda
80g shiro goma seeds
3 cloves garlic, minced
1 egg
2 tbsp honey
100ml canola oil
Mix all the ingredients, except for the egg, honey and canola oil, in a bowl. In a separate bowl, mix the remaining ingredients.
Combine the two mixtures and knead them into a dough. Let it rest in the fridge.
Remove dough from the fridge and roll or flatten it onto a parchment paper-lined baking sheet. Use a cutter to cut out your desired shapes. Bake the biscuit crumbles at 140°C for 30 minutes.
rhubarb confiture
200g peeled rhubarb stalks
100g brown sugar
25g butter
200ml cranberry juice
juice of ½ orange
Combine ingredients in a pot. On medium heat, bring to a boil. Simmer till rhubarb turns soft.
foie gras espuma
500ml chicken stock
200g duck foie gras
30ml VSOP cognac
salt and pepper, to taste
100g cream
40g Proespuma Calent (available from Euraco)
garnish
small chocolate pieces
edible flowers
sea salt
Bring chicken stock to a boil, add foie gras, cognac, salt, pepper, cream and Proespuma Calent. Fill mixture into a siphon bottle and charge it.
Arrange the rhubarb confiture on a biscuit crumble. Spray the foam or espuma on top, and garnish with chocolate, flowers, and sea salt.