Fluffy japanese cheesecake with mango yoghurt
The trick to achieving a cotton-soft texture for this light-as-air cheesecake? Remember to fill the roasting pan with enough water to create a gentle steam during baking.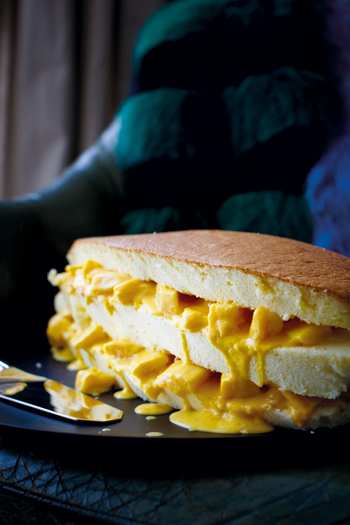 Serves 8
Prep time 20 minutes
Bake time 40 minutes
butter, to grease cake tin
400g cream cheese (at room temperature)
½ cup full cream milk
1 cup fine sugar
6 eggs, separated
½ cup cornstarch
4 tbsp lemon juice
1 tsp cream of tartar
5 cups boiling water
topping
2 tbsp apricot or strawberry jam
1 cup mango yoghurt
2 cups fresh mango, peeled and cut into big cubes
Preheat oven to 200°C.
Grease a 15-inch cake tin with butter.
Beat cream cheese and milk together until soft.
Add ½ cup fine sugar, egg yolks, cornstarch and lemon juice to the cream cheese mixture. Beat until smooth.
Beat egg whites in a separate bowl until foamy.
Add remaining ½ cup fine sugar and cream of tartar. Beat on high speed until soft peaks form, about 6 minutes.
Gradually fold beaten egg whites into the cream cheese mixture, stirring gently.
Pour into cake tin and smooth the surface with a spatula.
Place cake tin into a large roasting pan on the lower rack of the oven.
Pour boiling water into the roasting pan till it reaches half the height of the cake tin.
Bake for 35–40 minutes at 200°C, or until a pick inserted in the middle of the cake comes out clean.
Combine all ingredients for topping then spread on top of the cake.