Feng shui inn crispy scallops with seaweed roll
Feng Shui Inn Crispy Scallops with Seaweed Roll
FENG SHUI INN CRISPY SCALLOPS WITH SEAWEED ROLL
Wine Pairing Montana 'B' Series, Sauvignon Blanc Marlborough, New Zealand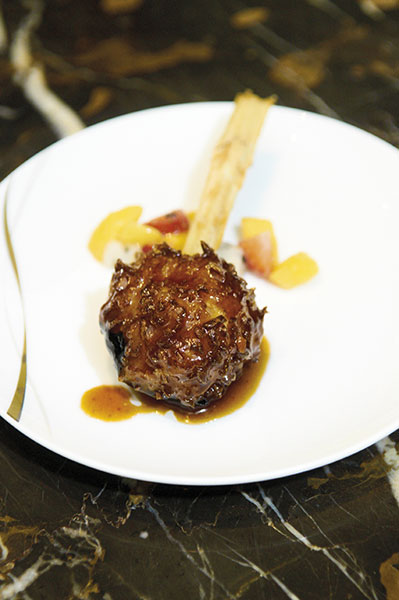 Serves 4-6
Prep time 40 minutes +30 minutes chill time
Cook time 35 minutes
500g prawns, deveined, shelled and diced finely
200g scallops, cleaned, shelled and diced finely
100g cornstarch
pepper, to taste
sesame oil, to taste
2 sheets Japanese seaweed, cut into 4cm by 4cm squares
1 large green sugar cane, trimmed and cut into 10cm-long batons
500g garlic, rinsed, minced and dried
vegetable oil, for deep frying
Japanese drizzle sauce
2 tbsp tomato ketchup diluted with a splash of water
1 tsp chicken stock powder
6 tbsp shoyu or Japanese soy sauce
dash pepper
dash sesame oil
1 tbsp sugar
pinch corn starch
50ml chicken stock
garnish (optional)
1 mango, deseeded and cubed
4 strawberries, cubed
1 dragon fruit, peeled and cubed
Combine diced prawns with scallops and mix well.
Sprinkle cornstarch over the seafood mixture and add a dash of pepper and sesame oil. Mix well.
Using your hands, pat 2 tbsp of seafood mixture into the shape of a small round patty. Place a square of seaweed under each patty and spear a sugar cane baton into the middle.
Cover each seafood roll with a layer of minced garlic and set in a chiller for 30 minutes.
Fry the seaweed rolls in hot oil (at least 60°C) for 5 minutes or until crispy and golden brown.
Bring all the ingredients for the Japanese drizzle sauce to a boil. Mix the cornstarch with chicken stock and add to the sauce to thicken.
Remove from heat, drizzle over the seaweed rolls and serve with fresh fruit garnishes, if desired.