Duck fat french fries
The humble potato comes in a staggering amount of varieties. Joyce Huang finds out which spud to use for that velvety mash, crunchy fries, or flavourful gnocchi.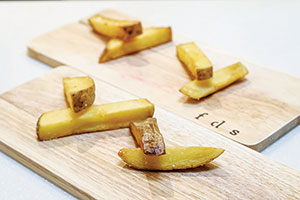 Serves 4-5 Prep time 10 minutes
Cook time 40 minutes
1kg agria potatoes, thoroughly washed
1kg duck fat (available from Culina)
fleur de sel, to taste
Keeping the skin on, cut potatoes into long strips of about 2cm thick or into wedges.
In a large pot, melt duck fat over medium heat.
When fat has completely melted and is warm, add cut potatoes into the pot and poach at a constant temperature of 90°C for 15-20 minutes.
Once potatoes are soft but firm, remove them from the pot and drain excess oil on paper towels. At this point, fries can be kept in a chiller or refrigerator to be deep-fried the next day.
Submerge fries for about 7 minutes in a deep fryer or deep pot filled with oil, at a constant temperature of about 170°C.
Remove and drain excess oil on paper towels.
Season with fleur de sel and serve warm.
Read more in the December 2015 issue of epicure.