Drunken chicken wings laced with moscato
The elegant and syrupy quaff forms a sweet and sticky glaze over chilled drunken chicken wings. One bite and you'll taste notes of honey, apricot and delicate floral flavour that meld perfectly with the delicate white meat.
Wine: 2011 Anakena Single Vineyard Late Harvest (Muscat & Viognier), Rapel Valley, Chile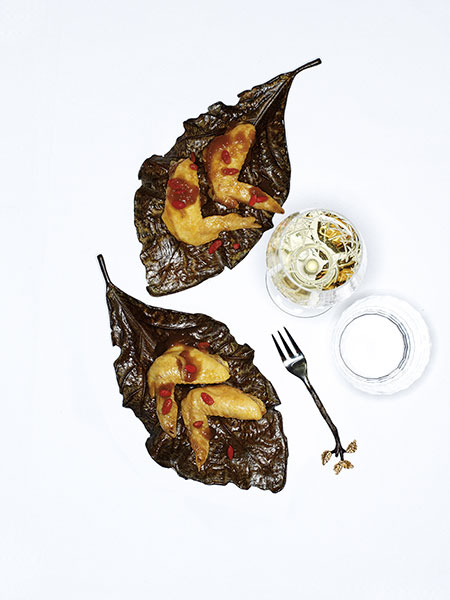 Serves 4
Prep time 5 minutes
Cook time 15 minutes + 24 hours chilling time
marinade
2 cups Moscato wine
10g fresh ginger
3 sprigs spring onions, minced
10 wolfberries
30g rock sugar
pinch white pepper
2 tsp fish sauce
2 tsp soya sauce
16 fresh chicken wings, remove the middle bone
10 Szechuan pepper, toasted
½ cup chicken stock
Combine all the marinade ingredients and puree until fine in a blender.
Rub the marinade onto the chicken wings. Add Szechuan peppers, chicken stock and red dates and store in fridge overnight.
Pour the chicken and marinade into a pot and bring to a boil. Simmer until the liquid is reduced by half. Make sure the chicken is cooked (about 2-3 minutes).
Transfer the cooked chicken wings and sauce into a metal whisking bowl. Put this bowl over a bigger bowl filled with salted ice cubes.
Allow chicken wings to cool down before chilling in the fridge overnight.