Deep fried yam baskets with ice cream
Deep Fried Yam Baskets with Ice Cream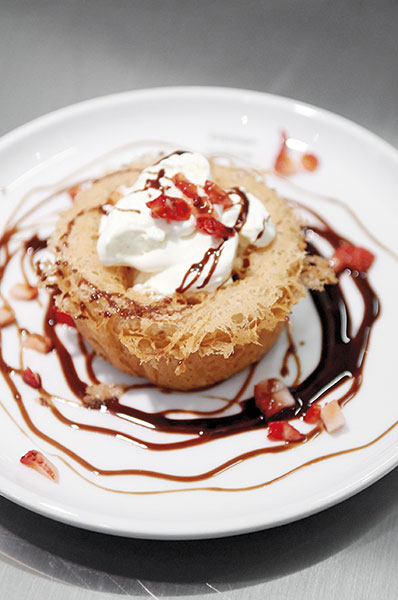 Serves 5
Prep time 40 minutes + 45 minutes chill time
Cook time 45 minutes
600g yams, peeled and cubed
200g gluten-free flour
80g sugar
200ml water
1 tsp five spice powder
70g vegetable shortening
½ tsp salt
corn flour, for dusting
vegetable oil, for frying
ice cream and fresh fruits of your choice, to serve
Steam the yams till soft, approximately 30 minutes.
Transfer the yam to a blender and add all the remaining ingredients (except corn flour). Blend well until the mixture reaches the consistency of pliable plasticine. (Note: if the yams have a naturally high water content, you may need less shortening and vice versa.)
Remove the mixture and divide the mixture into five equal parts. Mould each part around a bottle to form a ring, or roll out into a thick coil, pressing the two ends to seal. Chill the rings in the fridge for 30-45 minutes till firm.
Just before frying, dust each ring lightly with corn flour. Fill up a wok or deep pan with vegetable oil deep enough for the yams to be completely submerged. Deep fry until golden brown (they will float up when they are ready).
Drain the rings of excess oil on paper towels, then scoop any ice cream flavour of your choice into the middle. Serve immediately with fresh fruits if desired.