Deep-fried cauliflower with garlic cheese dressing and dirty chips
This is a deliciously sinful side dish to have on the dinner table. The combination of crunchy cauliflower florets, rich batter and cheese and the saltiness of the chips makes this a smash hit.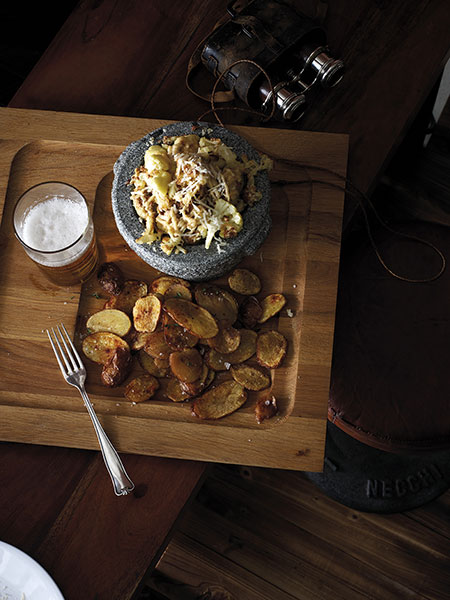 Serves 4
Prep time 10 minutes
Cook time 8 minutes
fried cauliflower
1 ½ kg white cauliflower (clean and cut to small bite size)
½ cup plain flour
4 nos egg white (whisked till firm)
1 pot deep frying oil
garlic cheese dressing
2 egg yolks
500ml olive oil
1 tbsp English mustard
1 tbsp Tabasco
1 tbsp Worcestershire sauce (Lea &Perry)
250g finely grated parmesan cheese
2 tbsp freshly squeezed lemon juice
Pinch salt and pepper
dirty chips
½ kg red skin potatoes (sliced to 2cm thickness, skin intact)
2 tsp freshly chopped fresh herbs
Pinch rock salt and pepper
• To make garlic cheese dressing: prepare a clean whisking bowl, add in egg yolk, add olive oil and whisk it bit by bit. Then, add in the rest of the dressing ingredients, and mix well.
• Dirty chips: heat up a pot of oil, fry the potatoes sliced till golden brown and crisp. Drain the oil. Season with herbs, salt and pepper.
• Lightly coat the cauliflower with egg white followed by flour. Deep fry cauliflower until golden brown and cooked.
• Quickly drain off the excess oil, toss cauliflower with the garlic dressing and top it with extra parmesan cheese.
• Serve with dirty chips.