Dark wicked chocolate cake with chocolate ganache and figs
This decadent confection is wickedly rich, and adding fresh figs makes for a dramatic presentation. The quality and high cocoa content of chocolate are essential to infuse the cake with a wonderful fragrance.
Serves 8 Prep time 15 minutes
Baking time 1 hour 15 minutes
190g unsalted butter, cubed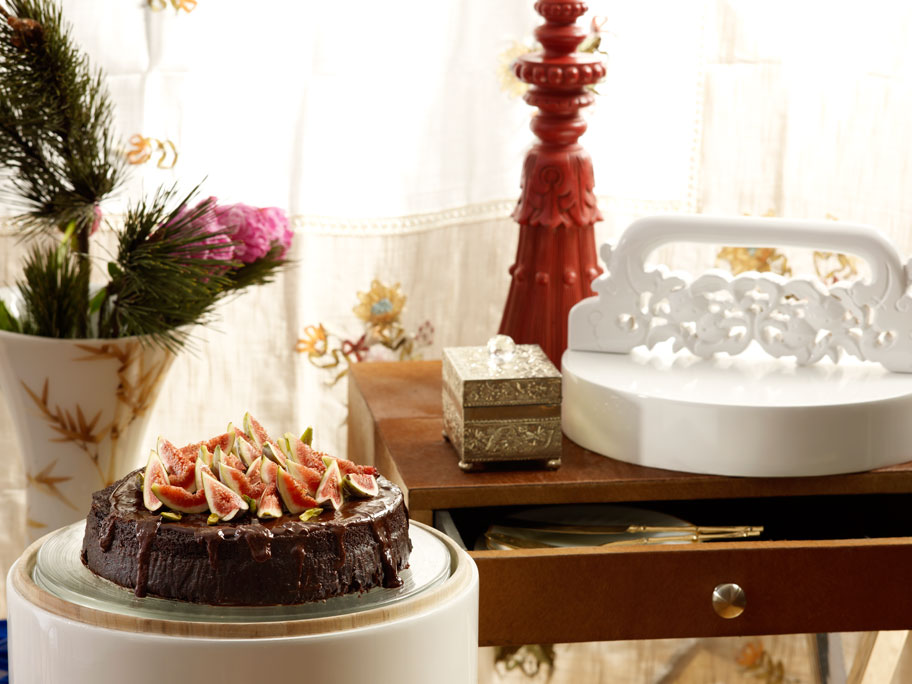 300g fine sugar
1 tsp vanilla essence
3 eggs
250ml cold water
220g plain flour
50g dark cocoa powder
1 tsp baking powder
½ tsp baking soda
½ tsp salt
2 tbsp butter for greasing
2 tbsp flour
Dark chocolate ganache
80g dark chocolate (70% or more cocoa content)
10g unsalted butter
40ml double cream
Garnish
150g fresh figs
Place the unsalted butter and sugar together in a kitchen mixer and beat it to a light creamy and fluffy texture. Then, add vanilla essence followed by eggs, one at a time. Add cold water and blend at medium to high speed.
Finally, add plain flour, dark cocoa powder, baking powder, baking soda and salt. Mix it at medium to high speed until there is a uniformed colour. Scrape the bottom to ensure that all the ingredients are evenly mixed.
Grease a 36cm round baking tin with butter. Dust with flour.
Preheat the oven to 160ºC. Meanwhile, pour the mix into the baking tin. Bake for 1 hour to 1 hour 15 minutes. To check whether the cake is done, poke a satay stick into the cake. If the stick comes out clean, the cake is ready.
While waiting for the cake to be ready, melt the dark chocolate for the dark chocolate ganache in a mixing bowl over a bain-marie. Add butter and stir well.
Take the whisking bowl off the bain-marie and whisk in double cream.
Slice the figs into wedges. Remove the cake from the oven. Let cool for 20 minutes. Spoon the dark chocolate ganache over the cake surface. Top with figs.