Crispy zucchini flowers with plum-soy sauce
To make this airy and crunchy tempura batter, rest the flour for 20 minutes. Compared to plain flour, potato flour turns slightly paler when fried. Here, the combination of both renders the perfect shade of gold.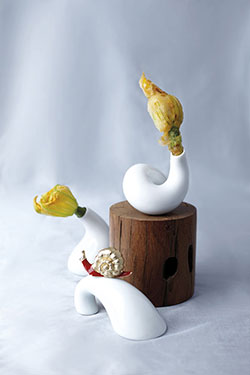 Serves 2 Prep time 40 minutes + 20 minutes rest time
Cook time 1 hour 20 minutes
plum-soy sauce
100g plum sugar
50ml light soy sauce
30ml fresh lemon juice
2 chilli padi, finely sliced
Steam plum sugar for 30 minutes. In the meantime, combine all the remaining ingredients in a small saucepan and bring to a boil over medium heat for 15 minutes.
Stir melted plum sugar in the reduced soy sauce and mix well.
crispy tempura batter
80g plain flour
60g potato flour
2 tsp (8g) baking powder
1/2 tsp (3g) baking soda
100ml water
1 tbsp vegetable oil
In a deep mixing bowl, whisk all the dry ingredients together. Pour in water and stir well. Strain the mixture through a sieve to remove any lumps.
Finally, add the vegetable oil and let rest for 20 minutes.
stuffed zucchini flowers
100g fresh prawns, cleaned and shelled
pinch salt
10g flower mushrooms, minced
10g fresh water chestnuts, minced
2 stalks Chinese parsley, finely chopped
160g zucchini flowers
plain flour, for sprinkling
vegetable oil, for deep-frying
In a food processor or electric blender, blend prawns into a fine paste. Season with a pinch of salt.
Add minced flower mushrooms, chestnuts and chopped Chinese parsley. Stir well to combine.
Transfer prawn paste mixture to a piping bag and snip off the end. Carefully open each zucchini flower, discard stamens and fill each flower with piped prawn paste. Gently twist the petals together to seal filling.
Gently dust zucchini flowers with flour and coat them generously with batter.
Heat vegetable oil in a wok to 160-180°C and deep-fry the zucchini flowers till golden brown. Drain excess oil on paper towels, then serve with plum-soy sauce on the side.
Excerpt from the January 2014 issue of epicure.