Crisp crab cakes with chilli mango salsa
Throw a memorable party and still find time to enjoy the experience with these easy-to-make and mouth-watering crab cakes.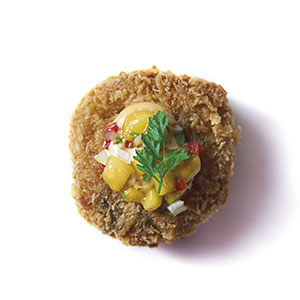 Makes 30 Prep time 20 minutes
Cook time 30 minutes
crisp crab cakes
350g canned crab meat (available at Culina)
100g snapper or seabass
30g coconut cream
½ tsp Thai palm sugar (available at most Thai supermarkets)
1/3 tsp baking powder
2 tsp light soy sauce
3 tsp fish sauce
1 tsp Thai red curry paste
½ tsp grated ginger and galangal
2 tsp sesame oil
2 tbsp coriander, chopped
3 tbsp spring onions, sliced
½ egg
pinch salt
4 kaffir lime leaves, sliced
batter
½ cup plain flour
2 eggs, beaten
1 cup panko (Japanese bread crumbs)
oil for deep frying
chilli mango salsa
1 medium ripe mango, finely diced
2 shallots, finely diced
1 red chilli, seeds removed and finely diced
handful coriander, finely chopped
juice of 1 lime
1 tsp fish sauce
dash balsamic vinegar
Place all the ingredients into a bowl. Mix together until the mixture forms a rough paste.
In a large frying pan, add enough oil to fill the pan and heat the oil until it sizzles slightly, about 160°C. Roll teaspoonfuls of crab mixture into balls with your hands and flatten slightly to form patties.
Coat the patties in a light layer of flour, dip into eggwash and coat with panko.
Carefully place them into the hot oil and fry until they turn golden-brown on both sides. Drain the crab cakes on kitchen paper and spear each with a wooden cocktail fork.
Combine all the ingredients for chilli mango salsa. Spoon ½ tsp on each crab cake or serve on the side as a dip.