Cranberry and walnut scones
Something fruity and nutty and a classic treat to herald the Christmas holiday.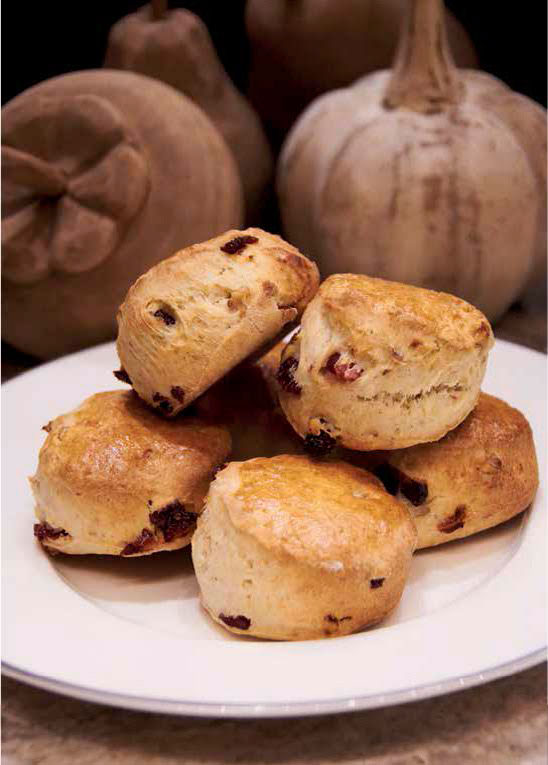 Makes approximately 20 five-cm scones
Prep time 20 minutes + 30 minutes rest time
Bake time 12 to 15 minutes
550g cake flour
30g baking powder
125g unsalted butter, chilled and cut into cubes
160ml buttermilk
3 eggs
pinch salt
100g sugar
100g dried cranberries
30g walnuts, toasted and chopped
1 egg, beaten for egg wash
In the bowl of a stand mixer, sift cake flour and baking powder together. Add butter to flour mixture and rub in until the flour resembles fine crumbs.
In a separate bowl, combine buttermilk, eggs, salt and sugar. Mix well.
With the mixer on low speed, pour milk mixture over the flour together with cranberries and walnuts and mix until it comes together. Alternatively, mix wet and dry ingredients together with a fork. Be careful not to overmix.
Transfer to a floured work surface and knead quickly into a smooth dough.
Let rest for 20 minutes. Roll dough out to approximately 3mm thick.
Using a round 5cm diameter cutter, cut dough and reroll any excess.
Place scones onto a greased baking sheet and let rest for 10 minutes. Brush egg wash over the tops of the scones.
Bake at 210°C until golden brown, approximately 12-15 minutes.