Crabmeat & dried shrimp yu sheng with thai dressing
It doesn't have any raw fish slices within but this refreshing appetiser brims with other markers for good fortune: fruit to represent tian tian mi mi (sweetness), lotus seeds to symbolise duo zi duo sun (abundant offspring), and prawn crackers for jin yu man tang (the scattering of good luck).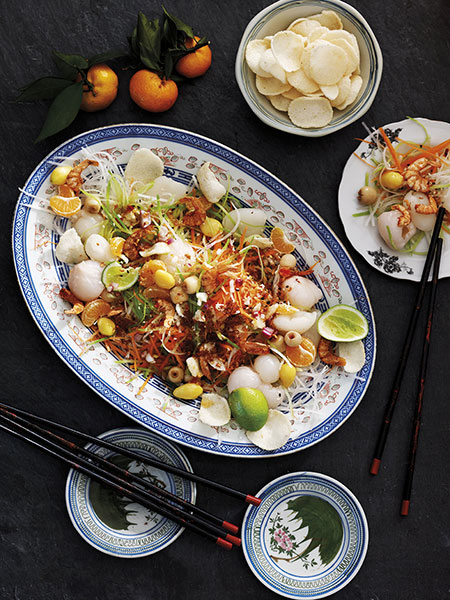 Serves 4
Prep time 10 minutes
Cook time 20 minutes
Thai dressing
70g coriander leaf root, chopped
20g coriander leaf, chopped
30g gula melaka, grated
4 tbsp Thai fish sauce
2 tbsp dried baby shrimp, toasted
1 tbsp apple cider vinegar
3 tbsp freshly squeezed lime juice
200g fresh crabmeat, cooked and smashed
garnish
180g white radish, cut into long strips
180g carrots, cut into long strips
80g Mandarin oranges, peeled and divided into segments
80g rose apple wedges, soaked in salt water for 10 minutes
80g pomelo, peeled and divided into segments
80g canned lychees
80g canned longans
80g canned lotus seeds
80g canned pineapple
80g canned rambutans
80g candied winter melon
80g canned lotus seeds
80g canned gingko nuts
20g candied ginger
80g prawn crackers
80g cashew nuts
80g sesame seeds, toasted
40g coriander leaves
Combine ingredients for the Thai dressing into a bowl and mix well. Add fresh crabmeat and let marinate for 10 minutes.
Arrange the remaining ingredients neatly onto a big platter and place the marinated crabmeat over the pile, drizzling the remaining sauce over the combination.