Crab roe cannelloni
This cannelloni curiously doesn't feature any pasta tubes at all. It's made with fresh egg and flour, then deep-fried until crispy as a shell for crab roe creme.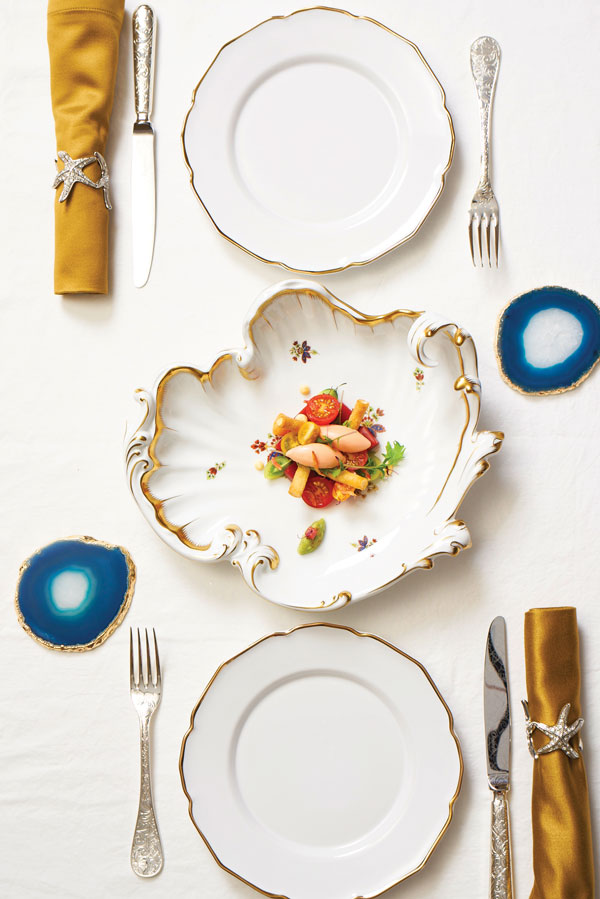 Serves 2 Prep time 1 hour
Cook time 20 minutes
crab roe crème
50g fresh crab roe
100g crab stock, reduced
250g whipped cream
salt, to taste
Blend crab roe into crab stock. Then fold crab mixture into whipped cream and season to taste. Set aside.
crispy brick cannelloni
1 egg yolk
30g flour
Mix egg yolk in flour until thick and gluey. Roll pastry onto a rod of any desired diameter. Deep fry until golden yellow and crispy.
smoked tomato jelly
½ g SOSA powdered smoked
200ml tomato juice
3 pieces gelatine
Add powdered smoked into tomato juice.
Warm smoked tomato juice and add in gelatine. Let set in chiller.
salsa vert
70g mashed avocado
50g diced tomato
10ml lime juice
5g jalapeno, diced
10g coriander stem, chopped
24ml grapeseed oil
20g red onion, diced
2g salt
Combine all ingredients and mix well. Set aside.
watermelon sorbet
900g watermelon juice
100ml raspberry vinegar
150ml sugar syrup
8g gelatin
30g passionfruit seeds
Combine all ingredients except gelatine and passionfruit seeds and mix well.
Heat up a third of the mixture and add in gelatine. Mix until fully dissolved and mix in the rest of the mixture.
Add passionfruit seeds and mix well.
Set it in a paco jet to make sorbet.
garnishes
vine cherry tomatoes
babry red mizuna leaves
dried sakura ebi
Plate all components onto serving plate and top with watermelon sorbet.
Credits: Singapore server by Herend, Blue Duna; Jardin D'Eden cutlery, Christofle; dinner plates and napkins, Crate and Barrel; starfish napkin jewels by L'Objet, Asiatique Collections; coasters by RabLabs, edit lifestyle